Despite the title for this month's Make the Case, I'm not thinking about this concept as grimly as you might think. I'm also not even entirely sure what I mean about the death of summer. Are we talking about movies centered around lives coming to a head at the end of the summer? Are the kids about to go back to school?
Am I in fact mourning the delirious rush most of us remember in the first moments of summer vacation?
I think we're going to cover everything the "Death of Summer" could possibly mean. This can even include movies in which the surprisingly complex notion of what the summer means or should mean is held in high esteem. Vacations, road trips, some sort of event that only occurs during that point of the year in which I'd personally just as soon stay home.
While I do like to stay inside my cool, dark room with my pets and work, I can't deny summer has a certain appeal. Even if it forces that appeal with the way so many different events and opportunities only seem to exist during weather that makes you swear you just saw the pavement bubble.
So, like it or not, I suppose, summer means something. There are so many films out there which use summer as a backdrop, a plot point, or even a character built out of atmosphere and energy.
With one or several of the questions mentioned above in mind, here are five movies that have something to do with summer. The "death" part can be any number of things.
Hell, with summer essentially shut down throughout the United States and many parts of the world, the concept of this season and death is well worth exploring.
Obviously, summer also seems to be an ideal time for death and mayhem in a general sense. It's either the heat or the humidity. Or both.
I don't think I'll be able to make sense of all this in any meaningful fashion, but at least we're going to see some fun movies along the way.
5 Movies About The Death of Summer
1. Only Yesterday (1991)
Director: Isao Takahata
Blame it on how the school year is structured, capitalism, or whatever the case may be. Summer memories lend themselves really well to turning bittersweet with the coming years. Sometimes, it just winds up being bitter.
A lot of us have those stories. That helps to relate to something as sweet and sad at times as Only Yesterday. A unique release from Studio Ghibli, the story focuses on a still relatively young woman, Taeko, whose travels to a family event in the rural backdrop of her childhood leads to a slew of moving, unforgettable summer memories. Your assumption that a lost love is somewhere in those daydreams would be correct.
That isn't a knock on the movie though. Only Yesterday uses beautiful animation to tell a believable story. It captures and depicts youth with as much energy as any live-action. It also never once falls into tedious saccharine.
2. National Lampoon's Vacation (1983)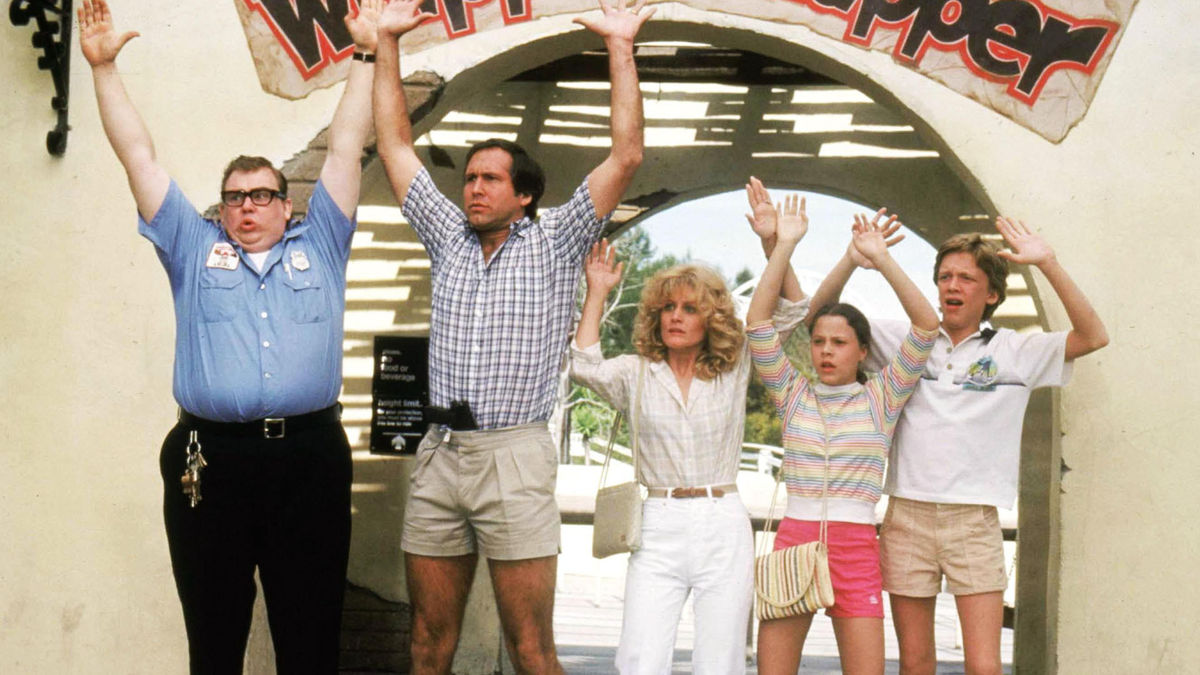 Director: Harold Ramis
Despite the various anachronisms inherent in a movie that's nearly 40 years old, I'd like to think the concept of a horrible summer vacation with your family is something any generation can appreciate. Even with your phone and some earbuds, you're still stuck in the car with a bunch of people who are sometimes, at best, difficult to tolerate.
Even in adulthood, we have vacation-from-hell experiences. However, given the current COVID-19 circumstances, at least some of us are looking back on these vacations with some fondness.
Not me, of course, but some.
National Lampoon's Vacation runs far indeed with the simple premise of a man (Chevy Chase, who would never be this good again), desperate to give his family his definition of the best family vacation imaginable. His nervous breakdown, same with the various misadventures which befall them, is inevitable. It is also, even after so many years, hysterically funny.
3. Crooklyn (1991)
Director: Spike Lee
If you want to watch Spike Lee show you the highs and lows of summer, there are a few different avenues to try. Do The Right Thing is justifiably the most well-known of these roads, but Crooklyn is my sentimental preference. This is one of those movies that I saw on cable over and over again. I don't recall when, but it was likely around the summer of 1995.
Not one of my best summers, but that was the longest few years of childhood to begin with.
I love the movie even more as an adult. Crooklyn naturally gets a lot out of the simple premise of a young girl and her family during the summer of 1973 in Brooklyn. The complexities of course are in how the kids grow up, interact with their parents (amazing performances from both Alfre Woodard and Delroy Lindo), and try to make sense of the world as it moves around them, shaping them simultaneously.
If you're like me, and were fortunate enough to wind up with a largely likable family, I have a feeling the movie will get to you. It doesn't have to go cheap to make it touching, poignant, and humorous.
4. A Nightmare on Elm St. 5: The Dream Child (1989)
Director: Stephen Hopkins
"It's going to be a great summer" one of the characters declares, near the start of one of horror's most famous franchises more uneven attempts at returning the series to its darker roots.
Well.
Despite its flaws, which includes the fact that the series made absolutely no sense at this point, The Dream Child has a lot of entertainment value. It is also the only film in the series to be set during summer vacation.
Watching Freddy Krueger run through a group of senior grads, including survivors from A Nightmare on Elm St. 4: The Dream Master, is fun enough. What keeps people coming back to these films year after year is Robert Englund, the inventiveness of the dream kills, and the likability. On all of those fronts, The Dream Child does reasonably well for itself.
So, if you had plans for the summer, and they were cancelled, it could be worse. I guess that depends on whether or not you have a thing for being murdered in your sleep by a well-toasted serial killer. At least your yet-to-be-born baby isn't hassling you in your dreams.
5. Midsommar (2019)
Director: Ari Aster
Despite the fact that I have a few problems with Midsommar, including a cast of characters I completely despise from front to back, I can't deny the staying power of this movie. This is despite the film being released only just last July.
Watching it again recently, I found myself more forgiving of the things that bothered me the first time around. This includes a better appreciation for the ending, and for the movie's build to that ending. I also better understood why a lot of my friends relate to this movie. Not only for its darker mediations on relationships and desire, but in terms of how it seems to summarize how a lot of us are feeling right now.
Midsommar is also curiously one of the last major summer horror movies most of us saw in a movie theater. It is another example of a summer trip gone, well, somewhat awry (it depends on who you are in the movie). How you feel about this movie seems to be extremely dependent on which characters you ultimately sympathize with, in this story of a couple who undergo some intensive counseling and personal growth during a fun visit to a village in rural Sweden.
It is also a strange reminder of a time and place, particularly during the summer, that most of us can't even fathom right now. I'm happy to watch a lot of things at home. Still, every summer of my life since 1988 has included at least a few trips to the movies. Summer movie blockbusters aside, this is also a time of the year when special screenings, anniversary events, and marathons are held. I won't be going to anything like that this year.
I don't think summer is dead forever, but I'm definitely ready to set it on fire. Maybe, Midsommar's idea of salvation doesn't have to involve the tangible.
READ NEXT: 20 Best Samurai Movies of All Time
Some of the coverage you find on Cultured Vultures contains affiliate links, which provide us with small commissions based on purchases made from visiting our site. We cover gaming news, movie reviews, wrestling and much more.