In 2017, Fortnite was introduced to the rest of the world, with its uber-popular game mode, Fortnite: Battle Royale, following suit, and the rest, as they say, is history. To say that Epic Games struck gold with Fortnite is only fitting, so it should be no surprise that Fortnite gifts and all kinds of merch popped up quickly.
Fortnite is easily one of the most popular video games in the world today, having become a cultural phenomenon across the globe. And, when something is popular, toys are pretty much inevitable.
These days, you'll find plenty of Fortnite toys available on the market. This includes action figures and collectible figures, as well as Nerf guns, plushies, and even full-blown costumes.
If it's a traditional toy, there's a good chance that there's a Fortnite branded version of it out there.
With that said, the plethora of options available on the market means that not all purchases will be equal, both in quality and as value purchases. This is why we decided to take matters into our own hands.
Below, you'll find some of the best Fortnite gifts available out there, many of which you likely won't find quite easily unless you know where to look.
The Best Fortnite Gifts
1. Fortnite Monopoly
Fortnite Monopoly is computer rage meets board game rage.
Given Fortnite's popularity, it was only a matter of time before Epic Games and Hasbro struck a partnership, resulting in a special edition of the classic Monopoly game inspired by the popular battle royale title.
As with other special edition Monopoly games, the rules are a bit different with this one.
In Fortnite Monopoly, the goal isn't to become the greatest capitalist ever. But, instead, it's to survive for as long as possible by avoiding the storm.
2. McFarlane Toys Carbide Fortnite Premium Action Figure
When it comes to action figures, McFarlane Toys is pretty much right there at the very top. If you need a premium-quality action figure of something, chances are they have a whole line available for it, and the best part is that the action figures are actually quite detailed without really breaking the bank.
The Fortnite line of toys from McFarlane Toys is no exception.
With more than a dozen premium action figures to choose from, each with 18 or so points of hyper articulation, you certainly won't go wrong with this purchase.
3. Fortnite Llama Loot Piñata
What kid wouldn't like to have a pinata filled with Fortnite goodies?
While the toy specifically states that it's not meant to be used as a real pinata, who's stopping you, right? It even works like a real one. You can tear it open to reveal the accessories and confetti, or you can break it open while it's hanging.
See, just like a real pinata.
With four different designs to choose from, including Dark Voyager, Rust Lord, Skull Ranger, and War Paint, birthdays and the holidays will definitely not be the same with the Fortnite Llama Loot Pinata.
4. Nerf Fortnite AR-L Blaster
A Nerf and Fortnite partnership was pretty much inevitable right from the get go, but while there are various guns available on the market, it's the Nerf Fortnite AR-L Blaster that absolutely takes the cake.
A faithful replica of Fortnite's very own SCAR, it's both silly-looking and non-threatening enough to look like the perfect gift for kids, but actually packs enough of a wallop to be played by adults as well.
5. Fortnite Llama Plush Toy
This Fortnite Llama Plush Toy is perfect for younger Fortnite fans who aren't yet allowed to play Fortnite — or, at least, not when their parents are looking — but are interested enough in the game to love something from it.
Kids aside, the Fortnite Llama Plush Toy also makes for the ideal gift for collectors and fans of the game.
6. Nerf Fortnite GL Blaster
Another faithful recreation of a Fortnite gun, the Nerf Fortnite RGL Blaster is basically a bright and colorful plastic grenade launcher that shoots foam rockets. Just be careful not to let little kids (and adults) play with it while inside.
As non-threatening as this rocket launcher might look like, the larger ammo that it uses carries enough impact to flip over and break furniture. Take this beast outside and unleash the fun instead.
7. Nintendo Switch Console – Wildcat Bundle
Who doesn't have an eighth-generation console these days?
Well, for those who don't have one yet and are planning to buy one for yourself, or you want to gift one to someone, the Wildcat bundle of the Switch is quite the deal.
Sure, Fortnite is technically free; you don't need to pay to play it. But it's also true that this console looks cooler than the stock version, with a matching purple Switch controller, as well as other freebies such as an exclusive Wilcat set, in-game currency, and so much more.
8. McFarlane Toys Fortnite Raven Deluxe Figure
It might seem like a cop-out decision to go with multiple Fortnite-themed toys from McFarlane Toys, but this 11-inch scale Raven action figure is just too good to not recommend.
While this deluxe figure doesn't come with as many points of articulation as other more affordable action figures from McFarlane Toys, it's no doubt much more cooler to look at. It's even got a Legendary Scar Assault Rifle to match, as well as a Fortnite-branded display base, making it possible to display it like a trophy.
9. Fortnite Boogie Bomb
The perfect prop and gift, the officially licensed Spirit Halloween Fortnite Boogie Bomb even comes with a realistic on/off switch, as well as a pull-pin trigger and in-game lights and music, to make it really seem like the real (or is it virtual?) thing.
10. Fortnite Bitty Boomer Wireless Bluetooth Speaker
Wireless Bluetooth speakers are all the rage these days, so why not have one that's Fortnite-themed, right?
Made by the guys over at Bitty Boomer, these Fortnite-themed wireless Bluetooth speakers come in as many as 9 different designs, including but not limited to the uber-popular Cuddle Team Leader and Rex.
These Bluetooth speakers come with up to 4 hours of music play on a single charge, a backpack clip or strap, and the best part is that you can sync two of them together for even punchier music.
11. Fortnite Unicorn Pickaxe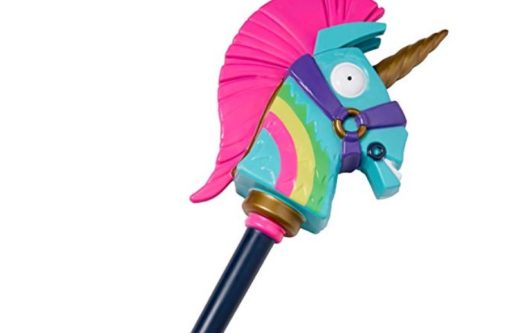 Another officially licensed Fortnite toy from the guys over at Spirit Halloween, the Fortnite Unicorn Pickaxe is a complete replica of the in-game model. If you're a fan of Brite Bomber, you should be very familiar with this Pickaxe.
It moves and even comes with working wheels, allowing you to live out all of your Fortnite fantasies in real life. We're not saying you should ride it around the house as an adult, but the kids might love it.
12. Fortnite Advent Calendar
What better way is there to count down the holidays than with a Fortnite-themed advent calendar, complete with a pint-sized hero version of all of your favourite Fortnite characters?
For kids and Funko Pop fanatics alike, this Fortnite Advent Calendar is the absolute perfect gift. Collect all of the Fortnite chracters over the seasons and chapters, include some special Christmas cosmetics.
13. Funko Vynl: Fortnite – Rex & Tricero Ops
Between Funko's Pop and Vynl line of action figures, it's the Vynl that's often commended for their superior quality and finish. Although there's not as many models to choose from, each one is a must-buy, including this incredibly charming take on two of some of your favourite Fortnite characters dressed up as dinosaurs.
Yes, you read that right, it's a two pack, so you get two figures.
These pint-sized figures are definitely going to be a winner among kids and fans of the game alike.
14. Fortnite Llama PopSocket
PopSockets are handy little gadgets that make gripping and securing your phone much easier, whether you're texting, calling, taking photos of other people, or taking a selfie.
If you're a Fortnite fan, then there's no better way to accessorize your phone than to get a Fortnite-themed PopSocket. Even better is one that prominently features that ridiculous Loot Llama that Fortnite players know all too well.
But, of course, if you want something else, there are several other Fortnite-themed options available.
15. Plush Fortnite Costume
Spirit Halloween is at it again, this time bringing to life some of your favourite Fortnite skins as plush and stylish costumes that you can wear anytime of the year.
While these fun costumes probably won't be as comfortable as your favourite pair of onesie pajamas, they're not half-bad either.
You can also choose from multiple designs and sizes, including the super popular and adorable Cuddle Team Leader.
16. The Last Laugh Bundle
The Last Laugh Bundle is probably one of the best value bundles Epic have ever released. If bought individually from the Item Shop, everything here would cost close to $75.
Instead, you can get The Joker, Poison Ivy, and Midas Rex for much cheaper as a Fortnite gift. Available for virtually every platform Fornite is playable on, Last Laugh also includes other cosmetic items as well as 1000 V-Bucks to spend on other things in-game.
And there you have it, a round-up of some of the best Fortnite toys and gifts available on the market today.
So, what are you waiting for? Show that battle royale lover in your life some much-needed appreciation and buy them any one of these Fortnite gifts today.
Fortnite is free-to-play on PC via the Epic Games Store, PS5, PlayStation 4, Xbox Series X | S, Xbox One, Nintendo Switch, and Android.
MORE FORTNITE: How Many People Play Fortnite In 2020?