What if you could play AAA games on the go without a high-powered handheld PC like the Steam Deck? Many moons ago, anyone would have scoffed at the concept. Today, thanks to smartphones, in particular Android-powered mobile devices, you don't need some fancy setup to take your games on the road. All it takes is your phone and one of these best Android gaming controllers.
Whether you're playing high-quality mobile games or taking advantage of streaming services like Xbox Cloud Gaming and NVIDIA GeForce Now, these controllers turn your Android device into a portable gaming console to allow you to play Xbox Series, Xbox One, PlayStation, PC games, and more on the go.
The Best Android Gaming Controllers
10. PowerA MOGA XP5-X Plus
Price: $24.99
It may look bulky and awkward at first, but having your Android phone attached to an Xbox-styled controller is actually a comfortable and convenient way to make use of Xbox Cloud Gaming. Multi-angle adjustments allow you to angle your phone as needed for the best access to the XP5-X Plus' Bluetooth controller. While you're playing, the XP5-X can also serve as a power bank for your phone.
Modeled after Microsoft's classic Xbox controller, the XP5-X features all the bells and whistles, with a few extra perks. Two mappable buttons sit on the back and the phone stand can be removed if you just want to use it as a PC controller alternative.
9. Razer Raiju
Price: $32.60
Razer is a well-known name in the gaming industry, and the Raiju is yet another quality peripheral from everyone's favorite snake branding. The controller features an adjustable clamp at the top for your phone, putting the action front and center. Razer opted for an ergonomic design for Raiju, so it should fit comfortably in most hands despite the added weight of the phone on top.
There are a few neat features with the Raiju, including four extra mappable buttons on the controller's rear. Two sit near where your middle finger will rest and two in between the triggers for comfortable customization. There's also a hair trigger mode for competitive gaming and the option to adjust the thumbstick's sensitivity via the Razer Raiju mobile app.
8. HyperX Clutch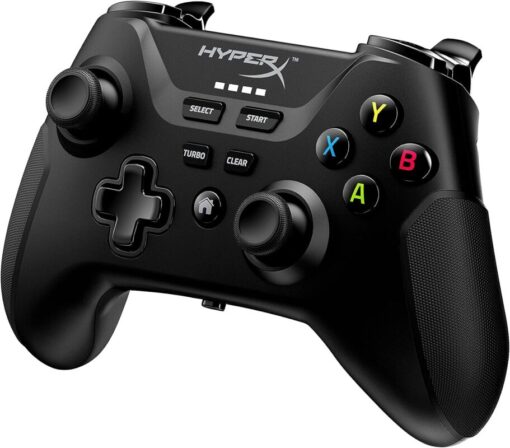 Price: $49.99
Some Android-compatible controllers make the mistake of putting your phone too close to the controller's face. This can crowd things, sometimes even getting in the way at pivotal moments. HyperX may have overcompensated with its Clutch controller, which has a mobile clip that angles away from you for a better viewing angle.
The controller itself is fairly standard, though it does have a turbo mode that can be toggled on and off. Built similarly to the Xbox controller, the Clutch has a nice hand feel, especially thanks to the textured grip. With up to 19 hours of battery life, you'll have plenty of time to enjoy your favorite Android games before having to recharge the built-in battery.
7. Razer Kishi V2
Price: $99
Razer took a different approach to mobile gaming with the Kishi V2, swapping out the traditional controller design for something more akin to a handheld PC. Your Android phone sits between two sides of a controller, putting the screen at the focus of the gaming experience. It may take some getting used to, as you'll be holding your hands farther apart than usual, but the design is convenient and prevents that top-heavy effect present in the Raiju.
Razer's Kishi V2 features microswitch buttons and programmable macros for customizable gaming based on what you're playing. You can also seamlessly swap between using the controls and touchscreen as needed. An expandable bridge extends compatibility for low-latency gaming across on a range of Android devices.
6. 8BitDo Sn30 Pro Bluetooth Controller
Price: $44.99
Not everything you play on your Android is going to be some AAA title filtered through Xbox Cloud Gaming or NVIDIA GeForce Now. It may be a simple port of a retro title like Mega Man X or Castlevania: Symphony of the Night. For those, you'll want 8BitDo's Sn30 Pro Bluetooth controller, inspired by the classic SNES controller.
The addition of two joysticks and L2/R2 trigger buttons modernizes the design a bit so it's compatible with many mobile and simplified indie games. If you're going with a retro aesthetic, though, you definitely should focus on the available retro ports available on the Google Play store. With Final Fantasy III, Dragon's Lair, and the Double Dragon Trilogy available to download to your phone, it's difficult to pass up.
5. GameSir X2 Pro

Price: $78.70
GameSir has a knack for responsive, low-latency peripherals. Thankfully, the X2 Pro is not a deviation from its typical quality. Slip your Android device in the center of this mobile game controller and you'll be able to enjoy your favorite Xbox Cloud-compatible games with little more than a Game Pass Ultimate subscription.
The thumbsticks and face buttons have a nice feel to them and the overall build is small enough to be comfortable, but still weighty enough to not feel cheap. Passthrough charging is a necessity to keep you gaming for hours on end, which you'll need as you're sure to get lost in the massive library of available digital titles. While the X2 Pro ships with an Xbox controller configuration, the face buttons can be swapped out to fix Nintendo's standard layout.
4. SteelSeries Stratus Duo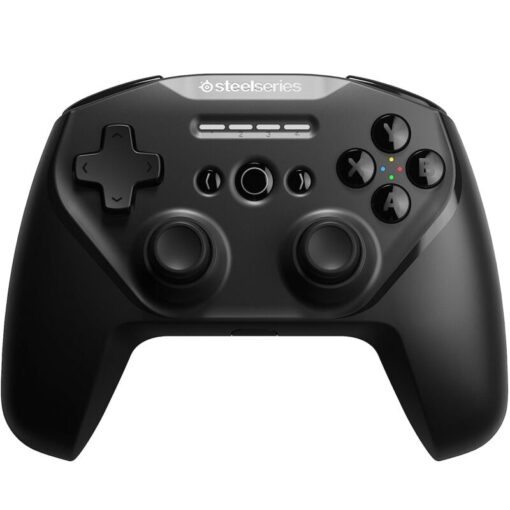 Price: $58.25
If you like a completely wireless configuration, the SteelSeries Stratus Duo wireless gaming controller should be appealing. SteelSeries opted for an ergonomic design, pulling some cues from the Xbox and even the Switch Pro controller. The wireless connection allows you to keep your Android device separate, or you can mount it with the included adjustable clamp. The mount angles the phone away from the controller to give players a full range of motion while playing.
The wireless design also makes this one of the more versatile Android-compatible controllers. Along with your Samsung Galaxy, Google Pixel, or other Android device, the controller connects to most Bluetooth-compatible VR headsets. Whatever you're playing on, even the wireless offers near lag-free responsive inputs.
3. Backbone One
Price: $99.99
The split controller concept gets a slight revamp with the Backbone One for Android. While most are a completely rectangular design that mimics the shape of the phone, the Backbone retains some characteristics of a controller for a more comfortable fit. While your Android phone remains the center of attention, your hands enjoy a girthier grip, which minimizes fatigue during long play sessions.
The Backbone features the expected buttons of any controller with a few additions. There's a screen capture button and a quick-start button for the dedicated Backbone App. Through the app, you'll have access to virtually every available streaming service and their sizable libraries. The USB-C port that connects the Backbone to your phone offers pass-through charging and lag-free gaming whether you're playing a match of Exoprimal or a few rounds of Marvel Snap.
2. Nintendo Switch Pro Controller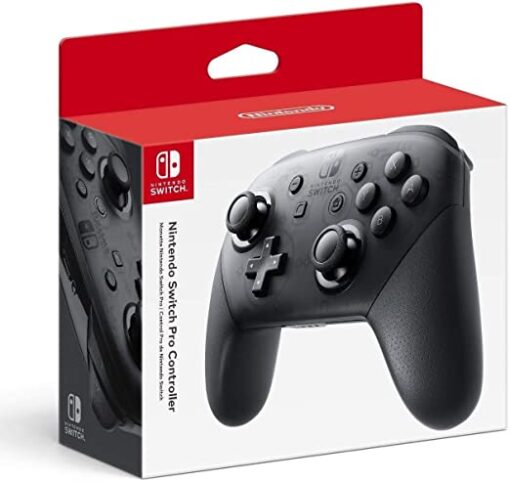 Price: $69.99
If your mobile or tablet case has a kickstand, then gaming with a wireless controller is also a possibility. And the Nintendo Switch Pro Controller is a high-quality option that nearly perfects comfort and functionality to make it rank high among the dedicated best Android gaming controllers.
The controller is fairly straightforward, with face buttons, triggers, bumpers, thumbsticks, and a d-pad laid out like many modern controllers. It's a simple design that goes a long way to enhancing your Android gaming experience. If you already have a Switch, then the Pro Controller is a no-brainer option for your Android device.
1. Xbox Core Wireless Controller
Price: $59.99
A classic that Xbox players are more than familiar with, the Xbox Core wireless controller can also work for your Android-based games. If you're streaming from the Xbox Cloud Gaming app, then this controller is your best bet. It has everything you need for a smooth transition from console to cloud gaming, and it's already proven itself to be a first-rate option.
Though there's no built-in rechargeable battery, two AAs last a surprising amount of time. The biggest drawback of the Core controller, as well as any other separate controller, is that you'll need a kickstand case for your Android device. The freedom is an added perk, though, so you're not forced to view your phone or tablet from a limited number of angles.
READ NEXT: 10 Best Steam Deck Alternatives You Should Check Out