Quite possibly the biggest thing to happen in the professional wrestling world that doesn't involve CM Punk was the confirmation that Kenny Omega and Bryan Danielson are set to lock horns for the first time at AEW: Grand Slam. As soon as the remixed Ride of the Valkyries hit the speakers at All Out, fans were so ready to see these two legends of independent wrestling do their thing and likely be showered with 5* ratings, and AEW weren't hanging about in booking this dream match.
However, All Elite Wrestling, despite their fingers being firmly on the pulse of what makes good content and fan service, are making a crucial mistake — Omega vs Danielson I is being given away on free TV. Now, for many, this is going to be a huge draw for them to watch Dynamite next Wednesday, if they hadn't already been given enough reason to want to tune in weekly, which means AEW will likely be enjoying some top ratings during the Grand Slam broadcast. But, does this not take away from the looming Full Gear pay-per-view event? Is this now the standard that every episode of Dynamite needs to live up to?
I can appreciate that the Grand Slam show is being given that 'special episode' feel, considering this is AEW's New York debut, a state synonymous with WWE, their main competitor. But when you look at the stellar line-up that has been put together for a show that's, quite frankly, just another week of build to the November pay-per-view, some concerns start to be raised. With the likes of Ruby Soho's title challenge, the blow-off between Cody Rhodes and Malakai Black, and then the ultimate main-event between Danielson and Omega, this is already looking like an event on par with All Out.
The caveat to these concerns is that the encounter between Danielson and Omega isn't actually for the AEW World Championship, a cheeky workaround to the rankings system, allowing a newcomer to jump straight to the top of singles competition. But regardless of whether this is for the belt or not, this match is worthy of the biggest of spotlights, title match or otherwise.
I'm sure most of you readers are already speculating some sort of screw-job finish; perhaps the Elite get involved to bring the match to an early DQ conclusion, leaving fans wanting more and naturally setting up the AEW title match at Full Gear. Yet, this doesn't take away from the fact that we're going to be witnessing the first stare-down, first flurry of blows and the first booked match between these two for absolutely nothing. The hype generated around this first-time-ever attraction will be totally wasted on a match that won't provide fans with the satisfying end they're all hoping for, whether that be with Danielson capitalising on his AEW debut and dethroning Omega, or Kenny humbling the former WWE World Champion and proving that he is very much what he says he is, and that's the best damn wrestler on the planet. Hard to argue, really.
This match deserves a lot more respect than that, and considering that the Full Gear pay-per-view is only just over a month away, it's upsetting that AEW haven't been able to hold off on pulling the trigger until then. A fully-fledged and unhindered build towards Danielson/Omega I could have easily sold the entire show, giving it a true big-fight-feel when the bell rings. But now, it'll simply be a rematch, much like Omega/Christian Cage from All Out.
I'm not taking away anything from whatever matches we do get, it's very likely that this will be a banger no matter the stage or the quantity, but I would've much preferred the anticipation and rather have seen Danielson compete in his debut match at Grand Slam against another member of the roster, one of the Bucks perhaps or even fellow debutant, Adam Cole.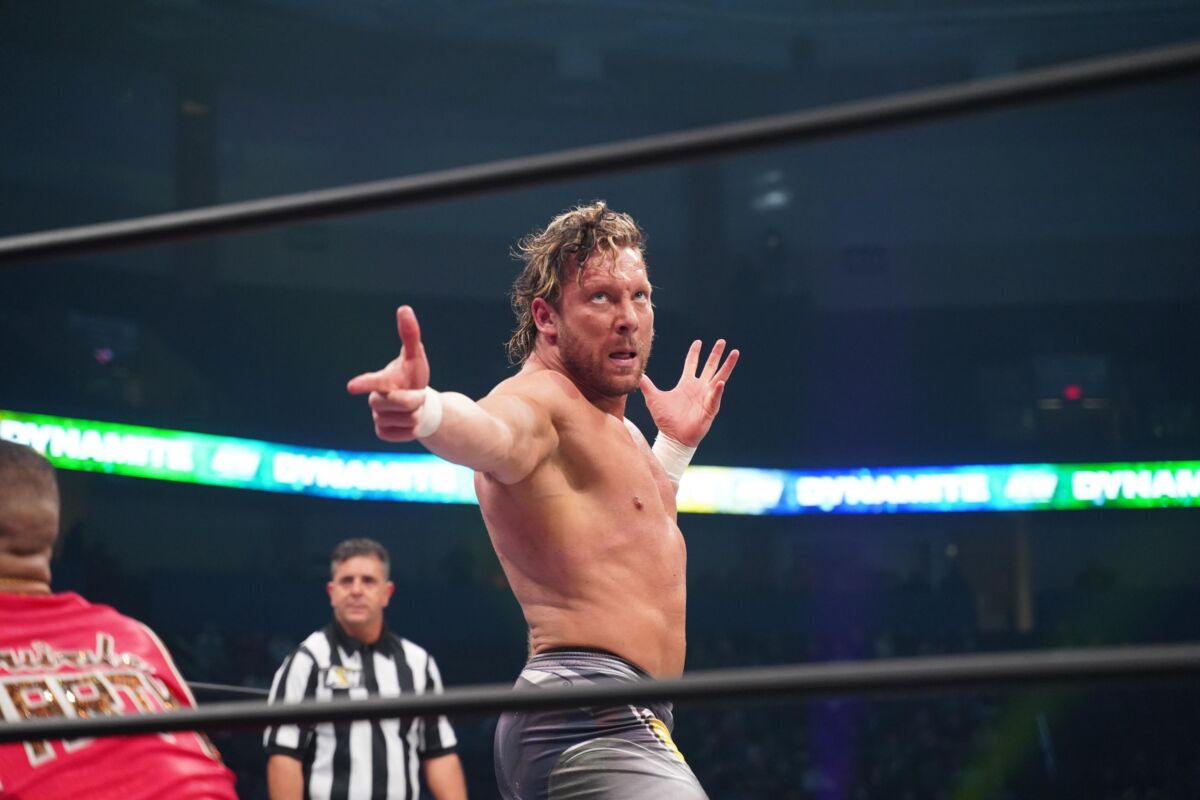 This entire situation echoes one similar that took place during the initial Monday Night Wars between WWE and WCW. Wrestling historians will instantly cast their minds back to the feud between Goldberg and Hollywood Hogan for the WCW Championship, something that had been produced by effective long-term booking and had the entire world on the edge of their seats waiting for their big title match. It was very much a title bout that could have headlined Starrcade, with all the bells and whistles of a spectacle. It was instead given away on free TV for the sake of a short-term ratings pop.
This was only one example of a wasted match, and even though the hometown crowd went absolutely nuts for Goldberg and his first WCW Heavyweight Championship victory, it was still something that could have been so much more. I fear that the same will happen with Danielson/Omega in New York and we'll forever look back on it and think about how much more impressive it could have been if it was saved for a pay-per-view.
AEW have been constantly compared to WCW and have even fallen into a couple of similar pitfalls already, the misbooking of Danielson vs. Omega could very well shape up to be the next and biggest mistake in their repertoire. Either way, I'll be eagerly waiting to see this match unfold on Dynamite and look forward to how they'll hopefully follow it up with an even bigger card at Full Gear.
READ NEXT: I Feel Bad For Big E And The Ratings
Some of the coverage you find on Cultured Vultures contains affiliate links, which provide us with small commissions based on purchases made from visiting our site. We cover gaming news, movie reviews, wrestling and much more.