LGBTQ+ representation and visibility has been increasing in all forms of sport and media, especially in recent years, and pro wrestling is no exception. The number of wrestlers that are openly supportive allies or members themselves, either on our TV screens or through their social media, is a great thing to see and is so important in continuing the fight for equality and acceptance.
Here's a list of five current wrestlers who are members of the LGBTQ+ community and have done amazing work in contributing to increasing representation and acceptance.
5. Fred Rosser
FKA Darren Young in the WWE, Rosser is a former Tag Team Champion with Titus O'Neil as part of The Prime Time Players and played an important role in one of the hottest angles of the last decade in The Nexus vs. WWE. During his time in the company, Rosser prided himself on being one of the hardest working wrestlers on the roster with his 'no days off' tagline which he has maintained since leaving the company in 2017. He currently wrestles for the NWA and has also recently signed a contract with NJPW.
Back in 2013, Rosser came out as gay during his WWE tenure, becomming the first wrestler to work for the company to do so. This was undoubtedly an influential action as it demonstrated that a member of the LGBTQ+ community could make it to the 'big leagues' and be successful. It was also a step in the right direction for WWE, who had played homophobia for laughs in the past.
While Rosser's openness may have benefitted the company's image, what's more important is that it positively impacted the LGBTQ+ wrestling community since WWE could now been seen as a viable work environment for any LGBTQ+ wrestlers, rather than the backwards thinking, 'old boys club' that it often appeared to be in the past. Without Rosser's influence we may not see the other openly gay WWE performers on this list there today. Now Rosser continues to spread positivity with his LGBTQ+ advocacy and #StopTheHate platform.
4. Piper Niven
At this time of writing, Niven has just debuted on Raw as Eva Marie's mystery friend, with emphasis on the 'mystery' from the bewildered commentators. Niven was signed to WWE's NXT UK brand, having previously appeared in the first Mae Young Classic. She has since challenged for the NXT UK Women's Championship multiple times, including an incredible Falls Count Anywhere match with current champion Kay Lee Ray last year.
Piper announced her bisexuality in a tweet in which she voiced her support for Bi Visibility Day in 2019. Bisexuality is typically overlooked when it comes to mainstream representation, and is often reduced to an extension of homosexuality, so it's so important to have an advocate on such an influential platform as WWE programming. Niven is an all-round inspiring person, as a representative of the LGBTQ+ community and as an advocate for body positivity. Her recent WWE main roster debut demonstrates steps being taken towards a positive shift in diversity within mainstream wrestling.
3. Sonny Kiss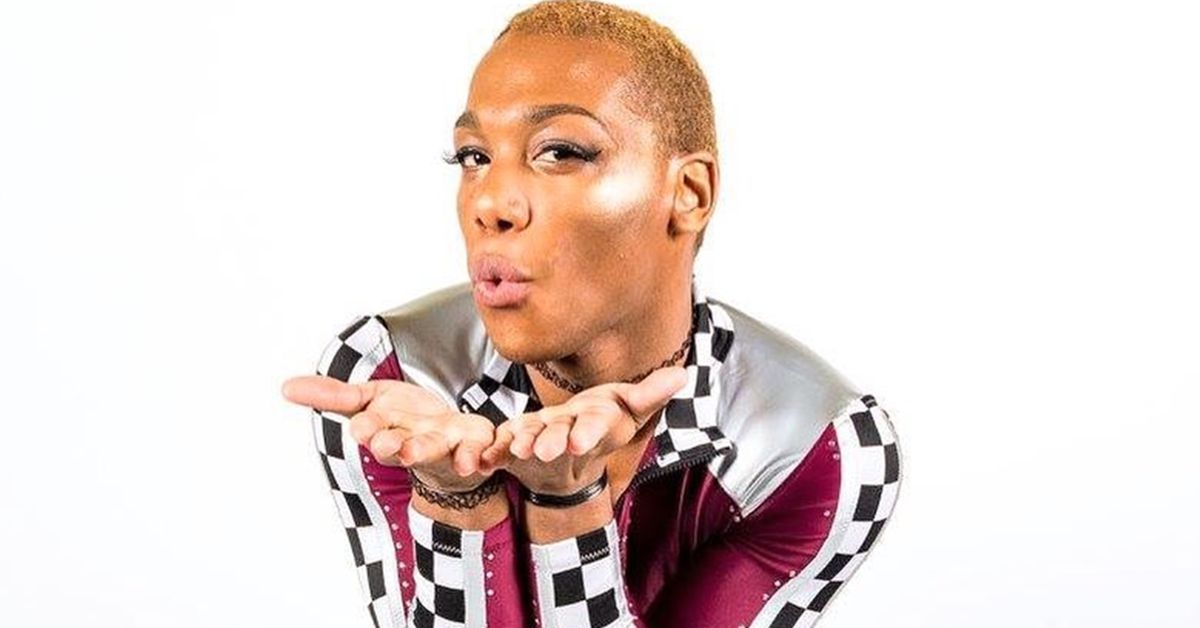 'The Concrete Rose' has wrestled for AEW's men's division since 2019 and has had some high profile matches against the likes of Cody Rhodes and Kenny Omega. For the past year, he has been regularly teaming with Joey Janela in a weirdly entertaining pairing and continues to be a highlight on Dynamite.
Kiss identifies as gender fluid and is addressed as she/her or he/him. To see a nonbinary wrestler appear and succeed in a major wrestling promotion is an important step in nonbinary representation. As wrestling as a sport moves away from old-fashioned methods of separating divisions by gender, with intergender wrestling becoming more prevalent, there's no doubt that there will be more of a spot for nonbinary athletes as the business evolves, which Kiss is helping to drive along. For now, he wrestles in the men's division, and looks good doing it.
2. Nyla Rose
Rose has performed for All Elite Wrestling since 2019 and is a former AEW Women's Champion. As well as proving herself to be a dominant force in the ring, she is also incredibly entertaining with her personality shining through on Being The Elite and her Twitter.
'The Native Beast' is the first transgender woman to be signed to a major American wrestling promotion, and subsequently to hold a world championship there. It cannot be understated how important of a milestone this is for Nyla, the wrestling business, and the LGBTQ+ community. By her chasing and achieving her dreams, she has shown that there's a place for transgender wrestlers, and the AEW fanbase has shown that there is an accepting audience.
1. Sonya Deville
Deville debuted on the WWE main roster alongside Many Rose in 2017 as part of the Absolution group, led by Paige. Since then, she has primarily teamed with and eventually feuded against her tag partner, and now finds herself as an on-screen authority figure. Her talking ability and amazing suits make her stand out as a commanding and visually interesting presence on what is nowadays an often samey and boring Raw.
Sonya is the first openly gay women to be employed by WWE and she consistently promotes acceptance. She and her girlfriend have featured on episodes of Total Divas and she also has a t-shirt out for pride with proceeds going to LGBTQ+ charity GLAAD, available through WWE Shop.
Within a company that still fraternizes with the openly bigoted Saudi Arabian government and occasionally trots out storylines with a 'but really they were GAY' twist like the Liv and Lana lesbian love angle, it is so important to see a strong role model like Deville shine through. Proud of her sexuality but not defined by it, a legitimate badass who is emotionally strong enough to speak openly about her identity, a charismatic authority figure who can tear it up in the ring – Deville is an amazing wrestler, person, and LGBTQ+ representative. Both the wrestling and LGBTQ+ communities are better for having Deville, and 'The Pride Fighter' knows it.
As the number of wrestlers showing their LGBTQ+ pride increases, the wrestling business is slowly but surely becoming a better place. Diversity that was once featured as comedy is now accepted, boundaries that were once thought to be set in stone have been broken, and the wrestling community has shaken the past stigma of 'dumb wresting fans' by showing their support for these amazing people. Things will continue to get better, but only because of the influential wrestlers like those on this list. Happy Pride!
READ NEXT: 15 Best LGBTQ+ Movies To Watch On Netflix
Some of the coverage you find on Cultured Vultures contains affiliate links, which provide us with small commissions based on purchases made from visiting our site. We cover gaming news, movie reviews, wrestling and much more.