Over the past ten years, British Wrestling has lived through its renaissance period. We've seen local promotions evolve from producing corny campsite shows to selling out iconic arenas across the UK. One of the biggest brands at the forefront of this movement is PROGRESS Wrestling; a grungey troupe of hard-hitting performers that march to the beat of their own drum, championing an all-inclusive attitude and ultimately puts on a fun show for their loyal fanbase – The PROGRESS ultras.
PROGRESS approaches its 100th chapter, a huge achievement for the promotion that many believed wouldn't ever make it outside of the Electric Ballroom. Having sold out the majority of their home-shows in Camden, PROGRESS has been home to many of BritWres's biggest stars, those that have gone on to headline flagship WWE shows and usher in a new era of independent wrestling across the globe.
With the centenary event fast approaching, let's take a look back through the storied history of PROGRESS, running down the most iconic members of the roster, share our recommendations and consider what's next as they move onto a new 'chapter' in the new year.
The Who's Who of PROGRESS Wrestling
When PROGRESS was conceived back in 2011, wrestling in the UK was in a bit of a slump. It was rare for promotions at the time to sell-out shows, and the only real way to draw a crowd was to rely upon imported talent. Such was the nature of the scene way back when.
PROGRESS, however, was keen to promote British talent. As the Chapters went by and continued to fill venues to capacity, fans became drawn to the PROGRESS 'regulars', with some becoming synonymous with the company itself, soon helping boost the promotion to international acclaim.
From the first Chapter onwards, PROGRESS had been planting the seeds for storylines to be paid off months later, as well as who the company would be built around. The faith PROGRESS place in their regulars has more than paid off, with each helping the other to career peaks of worldwide adoration.
With all that said, here's my 'Who's Who of PROGRESS Wrestling' – those who helped define the punk-rock wrestling brand we know and love today.
Jimmy Havoc
Jimmy Havoc debuted at Chapter Two, after heading his own #BookHavoc campaign on YouTube, before being booked in six losing efforts as an underdog babyface; proving popular with the PROGRESS faithful.
Havoc would later turn heel at Chapter Nine, attacking Jim Smallman with a chair and aligning with the London Riots, before cashing in an open contract at Chapter 10 and defeating Mark Andrews for the PROGRESS Championship after he had already wrestled twice that night.
This would mark the beginning of not only Havoc's 609-day title reign – a record that remains intact to this day – but also one of the most career-defining heel runs in pro wrestling. His heel character would continue to exist outside of the wrestling ring, with Jimmy refusing to sell merchandise or meet fans (he even mugged me on a train once. True story.)
People desperately wanted to see Havoc beaten. It wouldn't be until Chapter 20 when Havoc would eventually be dethroned, giving us perhaps one of, if not the, biggest pop in PROGRESS history.
Jimmy has come and gone in PROGRESS since then, as both face and heel, but his championship reign remains his greatest work to date.
Will Ospreay
The man who ended Jimmy Havoc's historic title reign, 'The Aerial Assassin' – Will Ospreay.
Also debuting at Chapter Two, Ospreay's journey to the championship set him on an inevitable collision course with Havoc. Ospreay would fight through two Natural Progression series', a Thunderbastard match and the inaugural Super Super Strong Style 16 tournament in his path to Havoc and the title.
In one of the greatest moments in the timeline of PROGRESS, Ospreay would eventually overcome his nemesis Havoc at Chapter 20, after finally hitting the 630 Splash. 'The Aerial Assassin' would go on to defend the Progress Championship, before losing the belt to Marty Scurll. Following that, Ospreay would feature primarily in big attraction matches against the likes of Matt Riddle, Shane Strickland and Adam Cole, before eventually heading off to New Japan Pro Wrestling.
His rivalry with Havoc would be reignited later down the line, with Ospreay losing and having to leave the company. At Chapter 75, the two settled the score once and for all in a no disqualification, 2-out-of-3 falls match, with Ospreay beating Havoc.
Marty Scurll
Marty Scurll had been a regular of PROGRESS since the very first chapter, where he was unsuccessful in his efforts to become the brand's inaugural champion.
To be fair, around that time there was rarely a show in the UK that Scurll wasn't a part of during his 'Party Marty' era. In terms of his PROGRESS career though, Scurll would have a few title opportunities but continue to come up short. It wasn't until Chapter 21, in a losing effort to Kris Travis (in Travis's final ever match but sadly passing away from stomach cancer), that Scurll would develop a much more vicious and villainous streak.
As 'The Villain', a moniker he still holds today, Scurll would go on to beat long-time rival Will Ospreay in a No DQ match, following handcuffing Ospreay and beating him with an umbrella until the referee called to stop the match.
'The Villain' would hold the title until Chapter 32 where, after his match with Aleister Black (FKA Tommy End), Black would K.O Marty with a spinning kick to the head, before then Natural Progression series winner William Eaver would cash in his 'any time' title opportunity and take the title from Scurll. However, Scurll would regain the PROGRESS Championship at the very next chapter, making him the company's first-ever two-time champion.
Scurll would lose the championship to Mark Haskins at Chapter 36, owing to the return of Jimmy Havoc. Marty would then only appear sporadically for PROGRESS, his final show being Chapter 55 in a losing effort to Zack Sabre Jr, as commitments to Ring of Honor and New Japan Pro Wrestling would largely keep him away from the British scene.
Mark Haskins
Mark Haskins made his debut for the company at Chapter 7 and continues to be a staple of the company, as well as a firm fan-favourite with the PROGRESS faithful.
Initially a heel as part of the group 'Screw Indy Wrestling', although the group would later disband and Haskins would go solo. Haskins would go on to compete in the first two Super Strong Style tournaments, coming up short, but eventually won the Thunderbastard at Chapter 20 where he would unsuccessfully challenge Ospreay for the PROGRESS Championship.
At Chapter 32, Haskins answered Johnny Gargano's open challenge, beating him to capture the Smash Wrestling Championship, becoming the first British wrestler to hold the title, before defeating Ospreay at the following chapter to earn a shot at the PROGRESS Championship. He would go on to win the title at Chapter 36, but sadly have to vacate the belt at the culmination of Chapter 38 due to injury.
Haskins future was immediately in doubt, as his neck injury was thought to be career-ending. At Chapter 43, Haskins, now medically cleared, would return along with 'Flash' Morgan Webster, saving Jimmy Havoc from British Strong Style.
Haskins and Havoc would feud on and off (even capturing the PROGRESS Tag Team Championships at one point), with Haskins later moving on to challenge unsuccessfully for the PROGRESS title against WALTER, and also beat Matt Riddle in Riddle's final match on the independent scene at Chapter 76 in Wembley Arena.
Jinny
If you're going to write a list of the 'Who's Who' of PROGRESS, then it absolutely has to include the women of PROGRESS also.
While the women weren't featured in the early days of the promotion, often found on ENDVR shows instead. One of the most prominent figureheads of the women's movement in PROGRESS is Jinny – the first female graduate of the ProJo, the training school of PROGRESS. Jinny made her debut appearance at ENDVR: 8, picking up a win over Pollyanna. This wouldn't be their first encounter, however, and would be the beginning of their groundbreaking rivalry in the company.
After two more meetings in tag matches at ENDVR: 8 and ENDVR: 9, Jinny and Pollyanna would settle things once and for all at Chapter 19 (Super Strong Style 16 – Day 2), not only in a No DQ match but also the first-ever women's match on a 'main' chapter show, paving the way for the women to become a regular fixture of chapters going forward.
At Chapter 25, Jinny would win a fatal four-way against Toni Storm, Dhalia Black and Pollyanna, and be a regular feature of chapters and ENDVR shows going forward. At Chapter 49, on the second day of SSS16 2017, Jinny would feature in a triple threat match against Toni Storm and Laura Di Matteo – this match would be to crown the first-ever PROGRESS Women's Champion and the first time women would main event a chapter.
Jinny would go on to fall short of title contention on different occasions, finally bouncing back and earning a shot at Chapter 69 and beating Toni Storm to become the second-ever women's champion. Jinny would hold on to the title until Chapter 82, with Jordynne Grace ending her reign.
Pete Dunne
Though Pete Dunne is today known as being one of the most popular stars in WWE NXT, it can be fairly argued that it was in PROGRESS where 'The Bruiserweight' truly ascended to star status in pro wrestling.
Dunne debuted at Chapter 13, making only a few appearances with mixed success. It wasn't until much later, at Chapter 33, where he would turn on then tag partner Damien Dunne and join forces with Trent Seven. This alliance would form the foundations of British Strong Style, later picking up the PROGRESS Tag Team Championships, seeing Tyler Bate as an addition to their ranks at Chapter 39.
That same chapter would also see Dunne win the PROGRESS Championship, winning a 7-man elimination match to crown the new champion after Mark Haskins vacated the belt at the chapter prior.
'The Bruiserweight' would continue to gain momentum and acclaim, as he and British Strong Style (BSS) would end up holding all the titles PROGRESS had, planting them firmly as the major dominant force in the company. Around this time, all three men would ascend to global acclaim, also becoming the focal points of WWE's burgeoning extension into the country – NXT UK.
Dunne would eventually be unseated as champion in the main event of Chapter 55 when 'The Kiwi Buzzsaw' Travis Banks would end his 287-day reign. Despite this huge loss, Dunne, as then WWE UK Champion, would continue to be one of the companies top attractions, competing for PROGRESS regularly with BSS and alone.
Notable singles matches would include a big victory over Ilja Dragunov at Chapter 76, as well as a win over ally and rival, Tyler Bate, at Chapter 82 – both men's last 'official' PROGRESS Chapter prior to increasing WWE commitments.
Travis Banks
'The Kiwi Buzzsaw' Travis Banks would debut at Chapter 32, assisting TK Cooper to a win over Jack Sexsmith, before making his in-ring debut at Chapter 33 with TK as a tag team, forming the South Pacific Power Trip (SPPT).
The SPPT would go on an undefeated streak until Chapter 45, where they would suffer their first loss to Tyler Bate and Trent Seven in a match for the PROGRESS Tag Team Championships.
Banks would then become entwined in a rivalry with British Strong Style, teaming up with CCK (Chris Brookes and Kid Lykos) to regularly take on BSS. At Chapter 55, CCK would beat Moustache Mountain (Bate and Seven) to win the Tag Team belts, while Banks, who had won the Super Strong Style tournament at Chapter 49 (beating Bate in the final round) would defeat Dunne to win the PROGRESS Championship.
From that point onwards, Banks would defend the title against a plethora of opponents, such as Keith Lee, Will Ospreay, Robbie Eagles and Shane Strickland, going onto hold the company's record for the most title defences with 17 in total – a record that remains to this day.
However, it would be during a title defence against Matt Riddle at Chapter 64 where the PROGRESS crowd would begin to turn on Banks, partly due to the popularity of Riddle, but in no small part due to their growing frustrations with his 'Terminator Trav' schtick – kicking out of damn-near everything thrown at him. This would lead to a natural heel turn for Banks.
8 months later, at Chapter 74, WALTER would finally put the Terminator down for good and become the new PROGRESS Champion.
WALTER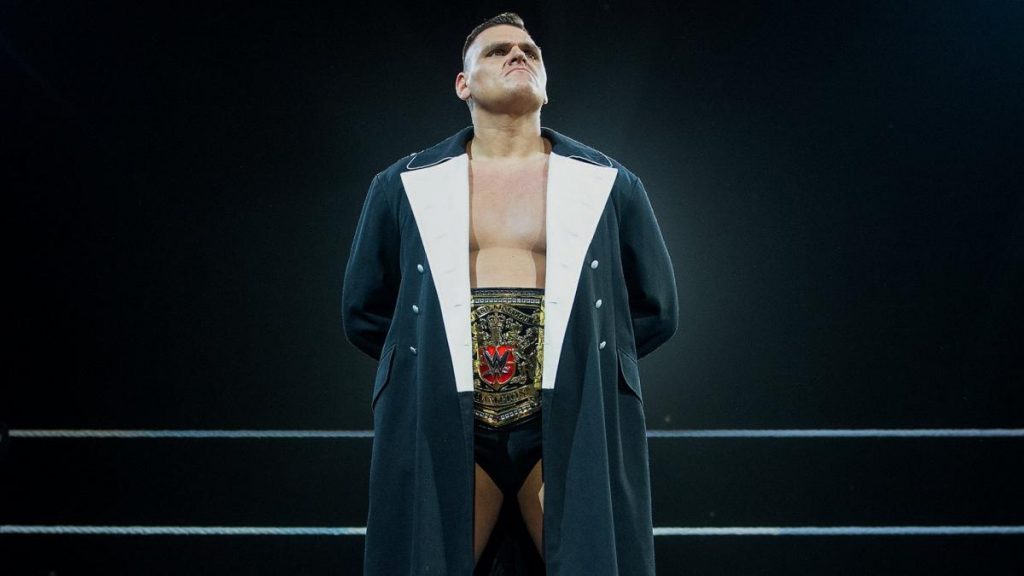 I speak from experience here when I say that witnessing WALTER chop another human being in person will leave an indelible mark upon your soul. I've seen plenty of them by this point and it never gets easier, but I can't help but watch.
WALTER first appeared in SSS16 at Chapter 19, during his 'Big Daddy Walter' days, in a losing effort to Rampage Brown. The two would meet again at Chapter 23, even breaking the ring ropes after Walter whipped Rampage into the corner.
After that, WALTER would be seen teaming with Axel Dieter Jr. and/or Timothy Thatcher as part of RINGKAMPF. He would also go on to be the only ever three-time Atlas Champion in PROGRESS history, trading the belt with Matt Riddle. At Chapter 68, WALTER would vacate the title after Banks told him he would never get another shot while being Atlas Champion.
WALTER would finally put an end to Banks' streak of title defences at Chapter 74 and go on to defend the title for well over a year, eventually unifying the PROGRESS and Atlas Championships after defeating Trent Seven at Chapter 88. During this time he would also end Pete Dunne's 685-day streak as WWE UK Champion.
By this stage, the PROGRESS fans had also started to sour on WALTER who would remain dominant within the company until the main event of Chapter 95 where Eddie Dennis would (finally) cash in his guaranteed title match contract he won at Chapter 76. With an assist from Mark Andrews, WALTER's reign of chop-based destruction would come to an end and the era of Eddie Dennis would begin.
WALTER has not been seen in a PROGRESS ring since, owing to WWE commitments.
Paul Robinson
Last, but by no means least, one of the best bad guys (and perhaps one of Britain's most underrated talents) – Paul Robinson.
Robinson, or "Robbo" as he's more often referred to, has had quite the storied history in PROGRESS, appearing frequently for the company since debuting at Chapter 3 against Noam Dar. He'd later have various matches, and team with Will Ospreay as part of the 'Swords of Essex', before walking out on Ospreay at Chapter 13 in a four-way number one contender tag team elimination and aligning himself with Jimmy Havoc.
At Chapter 21, a month removed from Havoc's reign of terror being ended by Ospreay, Havoc would demand a Number One contender's match for the Progress title, only Jim Smallman would then present a curveball – his opponent was Paul Robinson. A brutal No DQ match would follow, with Robbo curb-stomping Havoc face-first through light tubes and ending Jimmy's monumental run in PROGRESS. With Havoc now gone (for the time being, at least), this would position Robinson as the new top heel in PROGRESS, although, following a loss to Ospreay at Chapter 23, the momentum would be short-lived.
Wrestling sporadically in the interim after a hereditary blood condition forced early retirement, Robinson would work backstage for PROGRESS, before being assigned as a special guest referee to a feud ending No DQ 2-out-of-3 falls match between Havoc and Ospreay at Chapter 75. Robbo would dramatically announce his return to a PROGRESS ring by curb-stomping Havoc into thumbtacks and giving Ospreay the win, setting up a No DQ between the two at Chapter 76, in which Havoc would gain his revenge.
After this, The Sword of Essex would reunite once again to claim the PROGRESS Tag Team titles at Chapter 82, beating Aussie Open, before losing them back to Mark Davis and Kyle Fletcher in a TLC match at Chapter 87. Robbo would later compete in the 2019 SSS16 tournament, being eliminated in the quarter-final by Kyle O'Reilly.
At SSS16 Day 3, Robinson and Havoc would bring their issues to a head once and for all in a Death Match, with Robbo sending off his long-time rival via yet another curb stomp into light tubes.
Robbo's next appearance would be at the 80's themed Chapter 89, under the 'Dirty Dancing' inspired guise of Johnny Swayze, with his next notable match coming in defeat at the hands of WALTER for the Progress Championship in Toronto. Following this, the PROGRESS crowds who had long jeered Robinson would start to support him, appreciating just how good he is and how much he had actually given to the company. This newfound praise for Robbo would carry him through to Chapter 95, where he would win a 30-man rumble match (after entering first) to crown the first-ever PROGRESS Proteus Champion.
As of this writing, Paul Robinson still holds this belt, having successfully defended it against Travis Banks, William Eaver and Timothy Thatcher.
PROGRESS: A Brief History
The maiden voyage of PROGRESS took place on March 25, 2012 at The Garage in Islington. This first chapter featured many notable names that would go on to be legends in the promotion, and later either lay the foundations for NXT UK or venture elsewhere to become international stars.
The night began with Marty Scurll vs. Zack Sabre Jr, the first in a series of matches to determine who would be in the main event four-way elimination match. The eventual winner of said match would become the inaugural PROGRESS Champion. The title was originally represented by a staff, with the company's eagle logo sitting on the top. The crowd instantly started a "Nazi staff!" chant, which Jim Smallman countered with "it's not Nazi, it's regal!"
The night closed with Nathan Cruz batting away Marty Scurll, El Ligero and Mike Mason to be crowned the company's first champion.
Chapter 12: We're Gonna Need a Bigger Room (30 March, 2014)
The first event in what would come to be known as the promotion's home. Emanating from the Electric Ballroom in Camden, this show was one of the very best. Highlights include Tommy End (now known as Aleister Black) defeating company veteran Paul Robinson to kick off the night. "Liverpool's Number One" Zack Gibson defeated Will Ospreay to advance in the second Natural PROGRESSion series in a great technical contest to close the first half of the show. Team F.S.U. (Mark Andrews and Eddie Dennis) won a triple threat tag team match to be crowned the inaugural PROGRESS Tag Team Champions.
In the main event, top heel Jimmy Havoc defended his PROGRESS Championship in a thrilling fatal four-way against El Ligero, Marty Scurll and Rampage Brown. At the end of the night, Jim Smallman informed Havoc that he would have to defend his title at the next chapter against Mark Andrews in a ladder match.
Chapter 14: Thunderbastard (July 27, 2014)
This chapter saw the first iteration of the Thunderbastard match. One part Royal Rumble, one part absolute clusterfuck, the match sees competitors enter in timed intervals. Participants are eliminated by pinfall, submission or disqualification. This hot opener included: Danny Garnell, Darrell Allen, Joey Lakeside, Marty Scurll, Mike Hitchman, Paul Robinson, Styxx and Will Ospreay. "The Aerial Assassin" would win the match by last eliminating Scurll, earning himself a future world title shot.
This show also saw F.S.U. retain their tag gold against the London Riots (James Davis and Rob Lynch), Jimmy Havoc retaining his world title against Noam Dar, and Samoa Joe defeating Rampage Brown in the main event.
Chapter 19: Super Strong Style 16 – 2015 (May 25/26, 2015)
Arguably the most exciting annual event PROGRESS have, the Super Strong Style 16 is a two-night elimination tournament to determine the #1 contender for the PROGRESS World Championship. What makes this tourney unique is the international flavour, as wrestlers from all around the world come to compete. The three standout matches from this show are unquestionably Zack Sabre Jr.'s victories over Tommaso Ciampa and Marty Scurll, as well as the thrilling final between ZSJ and Will Ospreay.
Ospreay's Thunderbastard title shot proved unfruitful, with Jimmy Havoc still reigning supreme. In the final, Will defeated Zack in one of the all-time classic PROGRESS matches to earn one more shot at the title. There was also a title change over the weekend, with the Sumerian Death Squad (Tommy End and Michael Dante) defeating The Origin (El Ligero and Nathan Cruz).
Chapter 20: Thunderbastard – Beyond Thunderbastard (July 26, 2015)
The most iconic PROGRESS show for one reason: the end of Jimmy Havoc. Jimmy had ruled the roost as the top heel champion for 609 days (a record that still stands to this day) and Will Ospreay was the last bastion of hope to dethrone him. In a classic street fight that blended technical wrestling and extreme violence, Ospreay pinned Havoc after hitting a 630 splash (a move he was terrified of attempting). The pop was earth-shattering and was the first major title win of Ospreay's career. J
immy Havoc would only have one more match with the promotion, before going on a lengthy hiatus due to a leg injury. Mark Haskins would also win the titular Thunderbastard match to earn a future title shot.
Chapter 25: Chat Shit, Get Banged (January 24, 2016)
PROGRESS defined its formative years with heels on top for the babyfaces to chase. After Jimmy Havoc's lengthy reign with the belt, Will Ospreay was never going to hold onto it long. Sure enough, newly-minted heel Marty Scurll relieved Will of his title in the main event, winning an outstanding no disqualification bout. Scurll was cemented as the successor to Havoc, with his transition from party boy to full-fledged villain receiving praise.
Mark Haskins would also defeat Zack Gibsons in a #1 contender's match to earn another title shot, having failed with his Thunderbastard opportunity against Ospreay at Chapter 21.
Chapter 36: We're Gonna Need a Bigger Room… Again (September 25, 2016)
https://www.youtube.com/watch?v=l-iAhlPte3o
The event that proved PROGRESS was here to stay, this show took place at the O2 Academy in Brixton, London. To this day, it's one of the largest venues the promotion have ever run in and is undoubtedly one of the all-time great chapters. In the opener, Rampage Brown beat Joe Coffey to be named the inaugural Atlas Champion, a reverse Cruiserweight Championship for wrestlers over 205 lbs. The recently-formed British Strong Style (Pete Dunne and Trent Seven) relieved the London Riots of the Tag Team Championship. Zack Sabre Jr. won his rubber match with Tommaso Ciampa in a blinding two-out-of-three falls match.
In the main event, Mark Haskins finally captured the gold, taking out Marty Scurll and Tommy End in a masterful triple threat. The moment was special and only became bigger, as Jimmy Havoc returned after over a year of absence from the wrestling scene. The roof was torn off the Brixton venue for the loudest pop in PROGRESS history, capping off what is widely regarded as the strongest show they would ever put on. Between the size and atmosphere of the crowd, as well as the quality of the matches and their outcomes, this was the kind of signature show every promotion dreams of.
Chapter 76: Hello Wembley (September 30, 2018)
https://www.youtube.com/watch?v=25W3JISrSY4
To give a sense of how much this company has grown, PROGRESS ran the SSE Arena just six years after forming. Hello Wembley was the biggest British indie show ever and had a night of top bill matches.
It's a long show, but the whole thing is up on YouTube if you want a taste of what the promotion can offer.
Writers Recommendations
Matt – Chapter 95: Still Chasing – Pete Dunne vs Cara Noir
If there's any match that should exemplify the very best of PROGRESS in 2019, it's the instant classic put on by 'The Bruiserweight' Pete Dunne and 'The Black Swan' Cara Noir. In a traditional one-on-one exhibition bout to mark Dunne's triumphant return to PROGRESS, an open challenge was answered by a man that stole the show at the previous night's NPS tournament, and the match that followed was truly phenomenal.
The timeless old guard vs. new guard dynamic was very much the driving force behind this match. The hundreds of fans in attendance were cheering on both competitors, who were leaving it all in the ring. To my knowledge, Dunne and Noir had never met in the squared circle prior to this match at Alexandra Palace, but their chemistry was off the chart and left the fans begging for more, when Dunne announced that when he eventually returns once again to PROGRESS Wrestling, he wants a sequel with Cara Noir.
Even though there have been buckets of incredible matches prior to this recent spectacle, this particular match stands out as a prime example of how far PROGRESS has come as a company and how remarkably diverse British wrestling can be in general. This match was the perfect mixture of drama, athletic ability and theatrics, credit to both performers who are respectively destined for the brightest of futures.
Darryl – Chapter 13: Unbelievable Jeff! – Prince Devitt vs Zack Sabre Jr.
This match is the definition of an 'absolute banger'.
Just before he would sign with WWE, Prince Devitt (aka Finn Balor) would make a few appearances for PROGRESS, but this would be the most memorable by far in a huge clash of styles.The match would showcase not only the level of talent that PROGRESS would regularly attract but help plant the company firmly in the minds of wrestling fans seeking an alternative to WWE.
Fresh from New Japan, Devitt would make his entrance in Joker cosplay, which is just awesome, and start the match hot out of the gate with a shotgun dropkick and a Coup de Grace. From there, it would be a battle of Sabre Jr's technical wizardry vs Devitt's explosive offensive. A true dream match for the ages.
Best of all. the match is easily accessible, as Progress uploaded the entire chapter for free on their YouTube channel.
Tom – Chapter 25: Chat Shit, Get Banged – Will Ospreay (c) vs. Marty Scurll – PROGRESS World Championship
https://www.youtube.com/watch?v=FepgDwQSt14
Both of these men are among the most in-demand names in professional wrestling today. Their runs in PROGRESS played a huge part in that ascension. This match was Will's swan song as champion, as he put over the next top heel of the company. It was a classic Good vs. Evil encounter. Ospreay's flashy offence popped the crowd while Scurll's chicanery and dickish tactics cut off Will's flurries and pissed them off.
Scurll put the odds in his favour by handcuffing himself to Ospreay, effectively nullifying his high-flying arsenal. A common thread of this feud was Marty scoffing at Will's comparative lack of intellect, relying on cunning to snag the victory. Despite Ospreay's best efforts, Scurll locked in the chicken wing and used the handcuffs for leverage, forcing the referee to call things off and crown a new champion.
If you want to see two of wrestling's best current stars in a definitive match, this is the one to watch.
Chapter 100 & Beyond
As PROGRESS has grown and evolved over the past decade, it's safe to say that it has become one of the most talked about independent wrestling promotions across the world. Having reached its monumental 100th chapter, it's hard to not get a little mushy over just how far it has come since the first recorded chapter in 2012. But what's next for the guys and girls of PROGRESS Wrestling?
The guys behind PROGRESS have been very open about their developing relationship with WWE and NXT UK. Jim Smallman is embarking on his venture into mainstream wrestling and will undoubtedly continue to push for opportunities for his former first love. NXT's biggest stars are often included on PROGRESS' marquee cards; Alexandra Palace, Super Strong Style 16 and occasionally a surprise appearance at the annual Unboxing show in December. There's nothing stopping this special relationship from developing over the next year, allowing NXT UK to utilise PROGRESS as their developmental brand, similar to Evolve's connection to OG NXT.
BritWres' most promising stars are currently finding their feet in PROGRESS Wrestling. Performers like The O.J.M.O, Scotty Davis and Dani Luna are all becoming top stars in the company, forging a very vocal fanbase that believe they are the next generation of wrestlers that will help take the British indie scene to the next level. Of course when they accomplish all there is to achieve in promotions like PROGRESS, Revolution Pro and Fight Club Pro, these guys will be the worthy successors to NXT UK's current headliners. PROGRESS is the perfect home for them to hone their craft and be under the guidance of those with links to WWE.
Regardless of whether or not talent are aiming to be jetted off to the UK Performance Centre, PROGRESS can certainly continue to thrive as one of the most diverse and exciting brands of professional wrestling anywhere in the world. PROGRESS should carry on taking those very intriguing risks, touring in new cities across the world and ultimately, continue having fun with what they're doing. Their efforts spread the good word of British independent wrestling and put the spotlight on international talent that are stealing shows across the globe. This is very much the best of pro-wrestling.
Keep your eyes on PROGRESS, with 100 chapters of fantastic wrestling and storytelling behind them, I can only imagine that things will get better and better as they continue to grow as a company, with some serious backing behind them.
Show some love for Jim Smallman and everyone involved in PROGRESS Wrestling in the comments section below. But please, don't be a dick.
Some of the coverage you find on Cultured Vultures contains affiliate links, which provide us with small commissions based on purchases made from visiting our site. We cover gaming news, movie reviews, wrestling and much more.