We're only one month away from the launch of next-gen consoles, but you wouldn't necessarily know that with the line-up of games that are set to launch over the next few weeks. While some might be saving up their pennies for their next console, there's some absolutely fantastic games on the horizon for those with the cash to spare.
With titles ranging from sequels to classic franchises, annual installments of long running sports franchises, re-releases of the beloved hits from yesterday or a first-person cyberpunk game with big swords and parkour, October has plenty to offer. There's even a few spooky games, considering it's going to be Halloween, after all. Here's the biggest new games of October 2020 for PC, PS4, Xbox One, and Switch.
Crash Bandicoot 4: It's About Time | October 2nd
Developer: Toys For Bob
Publisher: Activision
Platform(s): PS4, Xbox One
One of the biggest success stories from the current gaming generation has been the return of Crash Bandicoot. Everyone's favourite marsupial mascot made a triumphant return as part of the N.Sane Trilogy, a faithful remake of the first three games in the series. One remake of Crash Team Racing later and the Bandicoot is back in Crash 4: It's About Time.
The first new outing for Crash in about a decade, Crash 4 comedically decides to throw everything after Crash 3: Warped in the trash to focus on a new story where time and space have been torn asunder by Neo Cortex and friends. As such, you'll be running, jumping and rail grinding your way through a variety of levels to put a stop to Cortex's plans. It's classic Crash, and we wouldn't have it any other way.
Star Wars: Squadrons | October 2nd
Developer: Motive Studios
Publisher: EA
Platform(s): PC, PS4, Xbox One
Historically, some of the best Star Wars games have come from inside the cockpit of an X-Wing or TIE Fighter. Rogue Squadron and its sequel, Rogue Leader, are some of the most beloved Star Wars games in the memory and, for the most part anyway, they focused on dogfights in the air and in space. Rogue Leader had some weird levels though, I'll say that.
Squadrons seems to be a return to that era of Star Wars games, with the focus solely on aerial and space dogfights. While there's a full story campaign that's set between the events of Episode 6 and 7, the real selling point is the game's multiplayer, which will see groups of 5 go to war. With cross-play support, and VR if you've got the cash to burn, Squadrons could be the new best Star Wars game on offer.
FIFA 21 | October 6th
Developer: EA
Publisher: EA
Platform(s): Pretty much everything except Stadia
It wouldn't be a year in gaming without a new FIFA game of some kind, and this year is no exception. However, FIFA 21 looks to be somewhat of a refinement over the core formula rather than a grand overhaul. While last year's entry introduced something new in the form of Volta, FIFA 21 is more concerned with improving the overall game.
In fairness, FIFA 21 is also set to be available on the PS5 and Xbox Series X, and historically, cross-gen FIFA games have been some of the most forgettable and lacklustre, so consider this a buyer beware until reviews drop. Ah, who am I kidding? You've already pre-order it, haven't you? Just be careful of the Switch version, as it's literally a roster update and nothing else for about £40.
Nickelodeon Kart Racers 2: Grand Prix | October 6th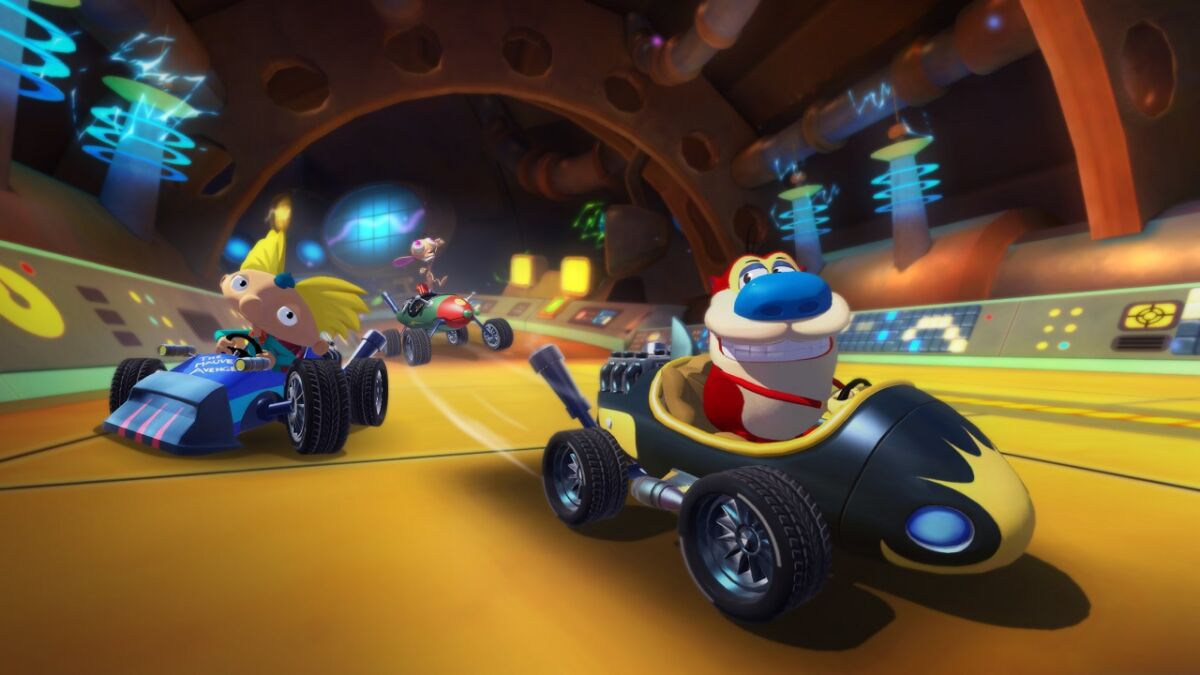 Developer: Bamtang Games
Publisher: GameMill Entertainment
Platform(s): PC, PS4, Xbox One, NS
Nickelodeon Kart Racers 2: Grand Prix has a huge hill to climb, that hill being the existence of Mario Kart. When developers decide to release a new kart racing game, the comparisons immediately start to form with Nintendo's offering, and often, new games can't handle that level of pressure. Some succeed, like Crash Team Racing or Sonic All-Stars Racing Transformed (absolute banger), but most are left eating dust.
That being said, Nickelodeon Kart Racers 2: Grand Prix does have some benefits in its favour. Firstly, the Nickelodeon license will go a long way when it comes to providing something recognisable for the tykes, with 30 playable characters to choose from. The sequel also improves on the original by upping the track count and introducing online multiplayer. So long as the core racing is solid, this one should be a decent hit.
The Survivalists | October 9th
Developer: Team17
Publisher: Team17
Platform(s): PC, PS4, Xbox One, NS
Time to practice your Tom Hanks impression and start painting on your favourite volleyball, because The Survivalists is coming to remind us that if we were ever washed up on a desert island, we'd be dead within days. It wouldn't even be close, I'd be the first dead and subsequently roasted over an open fire to feed the other castaways for the immediate future.
Anyway, The Survivalists is a spin-off from Team17's other simulation series The Escapists. Players must work together with other players, along with the desert island's incumbent monkey population, to find food, water, craft items and shelter in a world that could easily turn into The Lord of the Flies in a moment's notice. Reminder, if you see a pig's head on a stick in the middle of the jungle, just walk away.
G.I. Joe: Operation Blackout | October 13th
Developer: GameMill Entertainment
Publisher: GameMill Entertainment
Platform(s): PC, PS4, Xbox One, NS
October might just be the month of game tie-ins for your favourite childhood franchises. Between Nickelodeon, G.I. Joe: Operation Blackout and another game that we'll cover later on, all that's missing is a He-Man: Masters of the Universe game, or maybe Thundercats if you prefer, and pretty much every franchise would be covered.
G.I. Joe: Operation Blackout is a third person shooter that once again pits the forces of G.I. Joe against Cobra, only this time people will actually get hit when the bullets start flying. With 12 playable characters and a campaign mode of 17 levels that focuses on both sides of the conflict, it might just be a hell of a lot better than the G.I. Joe movies. There's even local co-op and multiplayer, if you've got the friends to play with.
Remothered: Broken Porcelain | October 13th
Developer: Stormind Games
Publisher: Darril Arts, Modus Games
Platform(s): PC, PS4, Xbox One, NS
It wouldn't be October without some spooky games of some kind, and Remothered: Broken Porcelain certainly fits that bill. A sequel to Remothered: Tormented Fathers, Broken Porcelain focuses on Jen and Linn as they try their best to escape from the Ashmann Inn when the manor's creepy history and unsettling denizens begin to reveal themselves.
Gameplay-wise, you'll spend the majority of your time running away from your pursuers as you explore the manor, utilising the shadows and other tools at your disposal to distract your foes, allowing you to escape. Whether you've played Tormented Fathers or not, the developers have promised that Broken Porcelain can still be the perfect jumping on point for the Remothered series, so if you're looking for a bit of a psychological scare, here you go.
Age of Empires 3: Definitive Edition | October 15th
Developer: Tantalus Media, Forgotten Empires
Publisher: Xbox Game Studios
Platform(s): PC
The PC RTS scene is enjoying somewhat of a renaissance when it comes to bringing back old titles, with the likes of Command and Conquer, Warcraft and more all itching for another shot. Age of Empires 3: Definitive Edition is the latest addition to that growing list, but it does more than just bundle together what worked in the past with a new coat of paint.
Okay, it does bundle all previously released Age of Empires 3 content together, with a new coat of paint, but it also adds some brand new content to the package too. Players can enjoy two new civilisations in the form of the Swedes and Inca, along with two whole new modes, Historical Battles and The Art of War Challenge Missions. Throw all that together with a bolstered online mode and Age of Empires 3: Definitive Edition feels like a great end to the run of AoE Definitive Editions.
Amnesia: Rebirth | October 20th
Developer: Frictional Games
Publisher: Frictional Games
Platform(s): PC, PS4
It's perhaps fitting that, on the tenth anniversary of The Dark Descent, Frictional Games would decide to drop their long-anticipated follow-up, Amnesia: Rebirth, just a week before Halloween to boot. If it's a scary Halloween you want, then the terror offered by the Amnesia series should be right up your alley.
Another pacifist horror game, players control Tasi Trianon, a mysterious character who wakes up in the middle of the Algerian desert. With horrific monsters around every corner and her own fears and anxieties threatening to bubble to the surface, Tasi must find a way through the desolation to reach some kind of salvation. Expect plenty of Let's Plays to dominate YouTube for the month after this game comes out, just like The Dark Descent did.
Monster Truck Championship | October 20th
Developer: Teyon
Publisher: Nacon
Platform(s): PC, PS4, Xbox One, NS
"Saturday, Saturday, Saturday at the Springfield Speedway!" is how I'd like Monster Truck Championship to start when I boot the game up, followed by the announcement of the amazing, the astounding, the unbelievable Truckasaurus. Perhaps The Simpsons has coloured my opinion on monster trucks somewhat, but after looking at the trailer for Monster Truck Championship, it doesn't seem that far off.
Billed as the first ever Monster Truck simulation game, Monster Truck Championship sees players engage in the various disciplines of Monster Truck driving, including racing, destruction and neat tricks. Seriously, the trick mode looks like Tony Hawk's but for Monster Trucks. It's not going to be the biggest ever game in October, but it could be a lot of fun. Just remember: "If you miss this, you better be dead, or in jail. And if you're in jail, break out!"
Transformers Battlegrounds | October 23rd
Developer: Coatsink
Publisher: Outright Games
Platform(s): PC, PS4, Xbox One, NS
I told you we'd get to that other childhood franchise later on, and here we are with Transformers Battlegrounds, the latest attempt for the robots in disguise to take the gaming world by storm. Whether it'll succeed or not remains to be seen, but it'll have a mountain to climb in being better than Transformers Devastation.
A tactical game in a similar fashion to XCOM, you control the various members of the Autobots as they attempt to fight off Megatron and the Decepticons across both Cybertron and Earth. While Battlegrounds probably isn't going to be as taxing as the likes of XCOM, Gears Tactics and so on, it should still be a fun adventure for your and/or your kids. There's even co-op so you can play together.
Ghostrunner | October 27th
Developer: One More Level, 3D Realms, Slipgate Ironworks
Publisher: All In Games, 505 Games
Platform(s): PC, PS4, Xbox One
If Cyberpunk 2077 wasn't already looming on the horizon, Ghostrunner might just take the title as the coolest game of 2020. The cyberpunk aesthetic is one thing, but the core gameplay of Ghostrunner looks absolutely beautiful, with the combination of one-hit kill swordplay and grand parkour sections similar to that of Titanfall 2 making for a thrilling experience, and one that hopefully lives up the hype.
Of course, Ghostrunner isn't just a cool concept with no substance, as players find themselves inside the Dharma Tower in the aftermath of a global cataclysm. Unfortunately, Dharma Tower is having a bit of a Snowpiercer moment, with various social classes relegated to their spot on the tower, leaving it up to you to scale the tower and take down The Keymaster. No pressure or anything.
Watch Dogs: Legion | October 29th
Developer: Ubisoft
Publisher: Ubisoft
Platform(s): PC, PS4, PS5, Xbox One, Xbox Series X
The third installment of Ubisoft's hack-a-thon franchise, Watch Dogs: Legion brings the series to London, with a corrupt government ruling over England. No, I swear, it's fictional, because this version of London has a private military company hired by the Government to police the streets. Here, the only private contracts concern our healthcare and the track and trace app from SERCO, but I'm widely off-topic here.
Legion introduces a new mechanic for the Watch Dogs series, with players able to recruit NPCs out in the wild to become playable characters, with each unique character having their own traits and abilities. Unfortunately, if one of your crew happens to die in the line of duty, they'll be gone forever. While the main feature has potential to be a poorly implemented gimmick, Legion could also be the best offering in the series. Time will tell which happens to be true.
The Dark Pictures Anthology – Little Hope | October 30th
Developer: Supermassive Games
Publisher: Bandai Namco
Platform(s): PC, PS4, Xbox One
It'd be a weak Halloween month if there were only two big horror games launching in October, so thankfully Supermassive Games and Bandai Namco are launching The Dark Pictures Anthology – Little Hope to terrify you and your friends. Regardless of whether you're on the same couch or playing together online, Little Hope should give you the scares you're looking for.
The next installment of The Dark Pictures Anthology, which kicked off last year with the nautical horror tale Man of Medan, Little Hope is much more supernatural tale than before. Set in the titular town of the same name, you control a group of students and their professor as the demons from the town's past threaten to drag them down to hell. With multiple narrative choices and outcomes, you're in control of the character's fates. Try to use that power wisely.
Pikmin 3 Deluxe | October 30th
Developer: Monolith Soft, Nintendo
Publisher: Nintendo
Platform(s): NS
Perhaps the biggest horror title of all, Pikmin 3 sees an alien land on a new planet and immediately begins to enslave the local populace to do his bidding. If that's not a plot lifted directly from some cheesy horror film from the 70s, then I'll eat my hat, or something. Either way, Pikmin is pretty scary in that respect.
Pikmin 3 Deluxe is an expanded version of the original game which launched on the Wii U, which includes brand new 2P co-op support for the entire main game, allowing two players to complete the whole game on the same console. On top of that, there's some new prologues and epilogues, and additional quality of life changes that should make this the best version of Pikmin out there.
READ NEXT: The Best PS4 Games of All Time
Some of the coverage you find on Cultured Vultures contains affiliate links, which provide us with small commissions based on purchases made from visiting our site. We cover gaming news, movie reviews, wrestling and much more.