Like all video game genres, the point and click has its naysayers. Many of these complaints are valid, of course — these games tend to have an overabundance of needlessly obtuse puzzles as well as a lack of proper communication when it comes to what can or cannot be interacted with in the environment.
On the other hand, point and click games have never really been about gameplay. Their centers have always been deep and engaging storytelling, which is why games like Myst, Grim Fandango, and Sam & Max Hit the Road are considered classics, as well as why the niche point and click community still thrives to this day.
However, Lost in Play seems to want to extend its reach past traditional point and click lovers. A 2D puzzle adventure game about two siblings, Toto and Gal, who get too lost in their imaginations and have to work together to get back home, Lost in Play fixes a lot of infamous point and click problems. Namely, gone are pixel hunting, clicking all over the screen, puzzles with too far-fetched solutions, and lack of a hint system.
Lost in Play makes it very obvious what you can or cannot interact with in the environment — the only characters you can talk to or items you can touch are the ones with chat bubbles. The game even comes with full controller support, one that's pretty well-integrated. None of the puzzles are ever too difficult or seemingly illogical, and even if you do get stumped, the game comes with a hint system which you can use pretty liberally.
Lost in Play is already easier to recommend than many of its point and click siblings. Much like The Darkside Detective, it's a game that actively tries to fix the frustrations that keep people away from its genre.
For the most part, it works, and Lost in Play is a joy to play. Point and click games have always been praised for their focus on narrative and worldbuilding, and because you're not spending most of the time hopelessly clicking everywhere in case you missed something, you're allowed to fully enjoy the world, characters, and story of Lost in Play.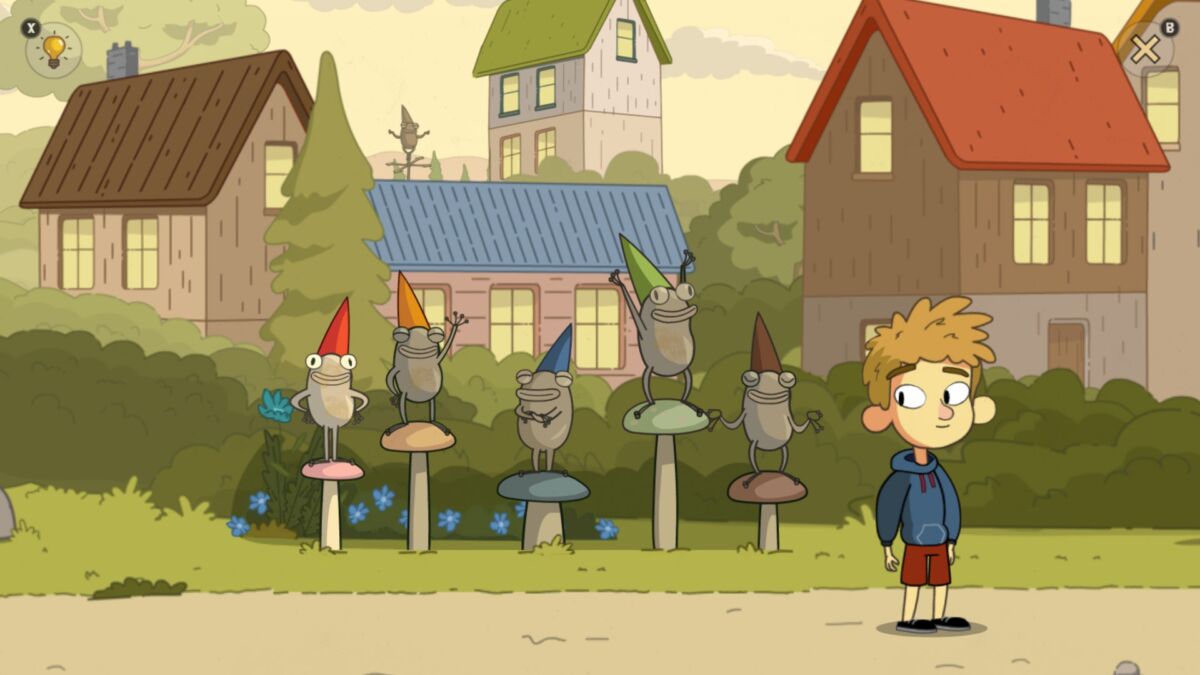 What's even better is that Lost in Play offers plenty to enjoy because of how rich and inspired its world, characters, and story are. Anyone above the age of 12 is bound to find something nostalgic about playing a game where two kids get lost in their imaginations, especially if you spent many of your childhood days just playing make-believe with your friends on the playground. Aesthetically, Lost in Play resembles more recent animated shows like Gravity Falls, Over the Garden Wall, and Hilda, but the gameplay takes its inspirations from older games like Pajama Sam and Machinarium. It's a great mix of old and new, nostalgic but still with enough freshness that the nostalgia doesn't feel like a gimmick.
Speaking of aesthetics, Lost in Play is a gorgeous game, and while it doesn't reach the beauty of the animated shows that inspired it, it's easy to see it being adapted into its own cartoon much like Cuphead was adapted into The Cuphead Show. The game features incredibly vibrant colors along with great location and character designs — these are places you want to be in and characters you want to spend time with. Presentation-wise, Lost in Play really nails it, feeling very much like the illustrations of a beloved children's book come to life.
Gameplay-wise, Lost in Play features some really fun puzzles. Anyone looking for a challenge should probably look elsewhere, but if you find yourself nostalgic over the puzzles of games like Freddi Fish and ClueFinders, Lost in Play should be right up your alley. There's a variety of puzzles here too, from arranging scenes in order to deciphering cave paintings, and most of them are communicated really well.
Similar to Machinarium, Lost in Play features no normal dialogue so everything is communicated through illustrations and symbols. There were one or two times where I found myself scratching my head for a minute wondering what I was supposed to be doing, but for the most part, you can figure out the end goals of the puzzles almost instantaneously. The characters also speak in a Sims-like gibberish and it's surprising and endearing the amount of personality the characters are able to give off through such a language.
However, the game's variety of puzzles is also the source for many of its problems. The puzzles not only vary in type but also in quality — some of them are really fun, some of them are enjoyable enough, and some of them are just plain boring. There's one puzzle where you're playing a variation of the game Checkers and while you should be able to get it in five or six tries, figuring out the puzzle is incredibly tedious and even an awful change of pace since the puzzle happens in the middle of an exciting scene. There's another where you're playing a variation of Blackjack, meaning luck, of course, plays a part in whether you win or not, and it's annoying having to replay the puzzle over and over until luck is finally on your side.
Another thing to note is that Lost in Play isn't exactly a game you can get better at. When a type of puzzle is done, it's done — that type never comes back into the game again. Every new puzzle. You might find it exciting how the game always changes shape and never allows itself to get old or you might find it exhausting how the game constantly requires you to learn a new set of rules, also making it entirely possible you'll find the difficulty levels inconsistent. Again, all the puzzles should be manageable enough if you're an adult, but because you can never get better at some of the puzzles, I can see some kids struggling with some of them. Thankfully, the hint system helps.
Still, Lost in Play heads in the right direction when it comes to point and click games. The game leans towards what makes the genre so great — the focus on characters, narrative, and worldbuilding — and avoids much of what makes the genre so frustrating for some. Lost in Play won't win over everyone, especially not people who care most about gameplay, but it's fun, charming, and endearing enough that it'll be a hit with point and click fans and even earn itself converts.
A PC key was provided by PR for the purposes of this review.
Some of the coverage you find on Cultured Vultures contains affiliate links, which provide us with small commissions based on purchases made from visiting our site. We cover gaming news, movie reviews, wrestling and much more.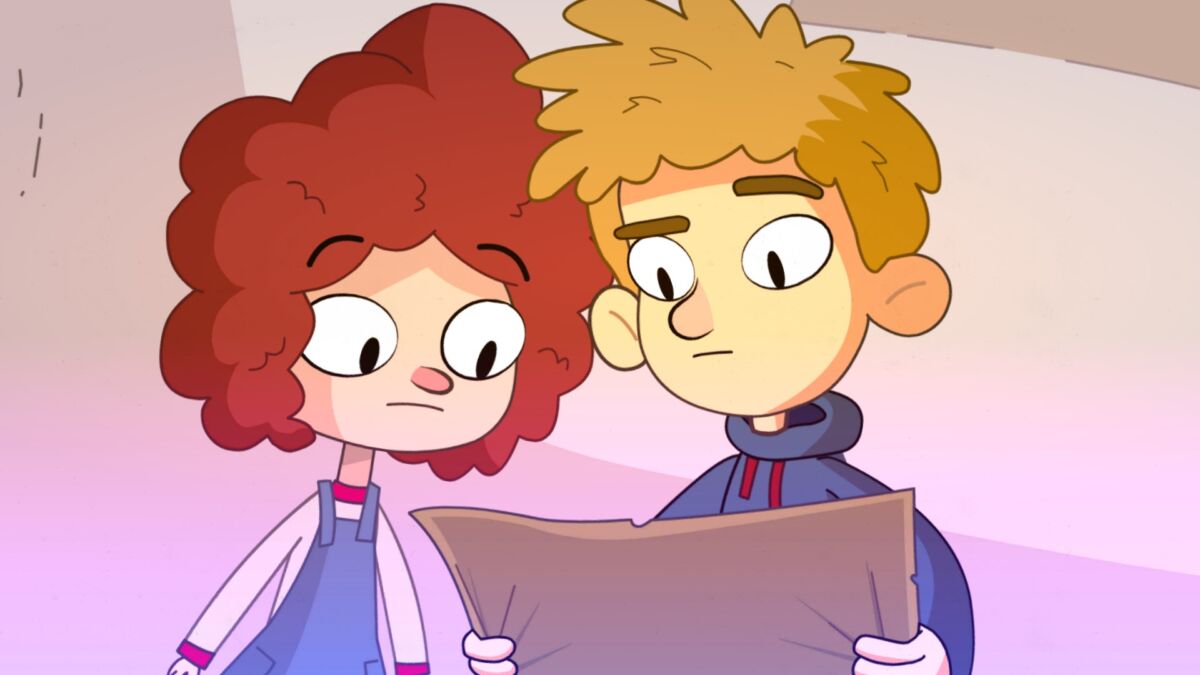 Verdict
Lost in Play provides a delightful gaming experience for kids and adults alike, boasting charming characters, fun puzzles, and an irresistible sense of childhood magic.