The Killzone series may have put Guerilla Games on the map, but Horizon Zero Dawn (2017) made it an award-winning developer. Since its reveal in 2015, Horizon Zero Dawn earned Guerilla Games nearly 30 awards, and history is sure to repeat itself with Horizon Forbidden West, the highly-anticipated sequel.
The role-playing adventure introduced players to an ambitious hunter named Aloy and the incredibly vibrant open world overrun by mechanical wildlife. Ultimately, these deadly creatures boil down to majestic, often aggressive robot-dinosaurs. Horizon Zero Dawn took the gaming world by storm with its unique concept and thrilling combat, and we can expect Forbidden West to astound and amaze just as much.
While we wait for Horizon Forbidden West to release, here are some details sure to keep you excited.
What is Horizon Forbidden West's release date?
Currently, Horizon Forbidden West does not have an official release date, but Guerilla Games and Sony have confirmed that it won't be a launch title. Though its predecessor released later in the PS4's life cycle, Aloy's next adventure is going to drop within the first year of the PS5's launch. Currently, the only release window offered by Guerilla Games is 2021.
While having Forbidden West release alongside the PS5 would help push console sales, the extra development time is necessary for such an expansive game.
Where can I play Horizon Forbidden West?
Guerilla Games could have kept the Horizon series exclusively on the PS4, but the PS5's faster SSD and improved hardware are a must for a game that promises to be massive in every way. Aloy's original adventure may be finding its way onto PC, but there has been no confirmation if Horizon Forbidden West will follow. If Guerilla Games plans to release the sequel on PC, it's likely to remain a PS5 exclusive for a while beforehand.
From the announcement trailer, we can see that the PS5 will allow Guerilla to create an incredibly detailed and beautiful world. A PS4 version would have certainly looked just as good as Horizon Zero Dawn, but splitting development between consoles could hinder the features, playability, and appearance of the final product.
What genre does Horizon Forbidden West belong to?
Guerilla Games hasn't provided any gameplay footage or any information about how the game will play. However, it can be assumed it will be an open-world, action-adventure game like its predecessor. There would be no real benefit for the developer to change the core gameplay when Horizon Zero Dawn became an award-winning title.
Players can also expect that the role-playing elements from Horizon Zero Dawn will be featured in its successor. As Aloy embarked on her adventure, she would earn experience points for bringing down machines and completing quests. These points were used to unlock skills that dictated her stealth, combat, and scavenging abilities. It's very likely these mechanics will return, though players should expect to see some changes to the "Prowler," "Brave," and "Forager" skill trees as well as the "Traveller" tree introduced in The Frozen Wilds DLC.
Horizon Forbidden West synopsis
Any plot elements in Horizon Forbidden West were essentially missing from the initial trailer, but Guerilla Games game director Mathijs de Jonge later clarified some aspects. As expected and assumed by many, de Jonge clarified that the title references a "mysterious new frontier" stretching from Utah to the Pacific Coast.
The catalyst for Aloy to ride west to an overgrown California likely has to do with the red growth killing off the planet's wildlife in the trailer. It may have some connection to the Faro Plague, which was responsible for the extinction of life on Earth in the 21st century. Aloy could be searching for a cure or the source of the deadly affliction, which appears to spread as invasive stalks and vines.
Several elements from the first game are in the trailer, including Aloy's bow and arrow and Focus tech. The trailer also reveals the return of Sylens, the complicated and mysterious founder of the Eclipse. Though he helped Aloy in her quest to disable HADES, he also secured the GAIA subsystem for himself. It seems he's tinkering with the tech in the trailer as he watches over his people wrestling with a red-eyed machine. With the touch of a staff, the machine's eyes turn yellow and it is subdued.
Horizon Forbidden West will take players to all-new locations, including San Francisco and the Yosemite Valley. Game director de Jonge stated that the map is a little bigger than Horizon Zero Dawn's and will also feature notable landmarks like the Transamerica Pyramid and the Golden Gate Bridge. During her travels, Aloy will also partake in quite a bit more swimming and will explore entire environments using a new breathing apparatus shown in the trailer.
Most importantly, Aloy is going to come up against all new machines and tribes. While the reveal didn't give away much, de Jonge states that the AI responsible for the mechanical beasts, Hephaestus, will throw more dangers in Aloy's path. Players can expect "dozens" of new cybernetic monstrosities to battle. Aloy will again be able to scan each beast to determine the best plan of attack.
Along with new mechanical beasts, Aloy will come across new tribes, one of which has figured out how to control the machines. This could mean that Aloy may be facing a two-fold threat as tribesmen could ride the machines into battle. The trailer even alludes to this with a war elephant marching with the new tribe.
Horizon Forbidden West quick facts
Guerilla Games may be tight-lipped about what we can expect from Horizon Forbidden West, but we can list a few quick facts to help keep your excitement up.
– Based on the trailer, Aloy will still have her Focus from the first game
– The game takes place between Utah and the Pacific Ocean
– The trailer revealed several new machines: a large turtle, a mammoth, and a war elephant
– Swimming will play a bigger role in exploration
– There will be virtually no loading screens
Horizon Forbidden West screenshots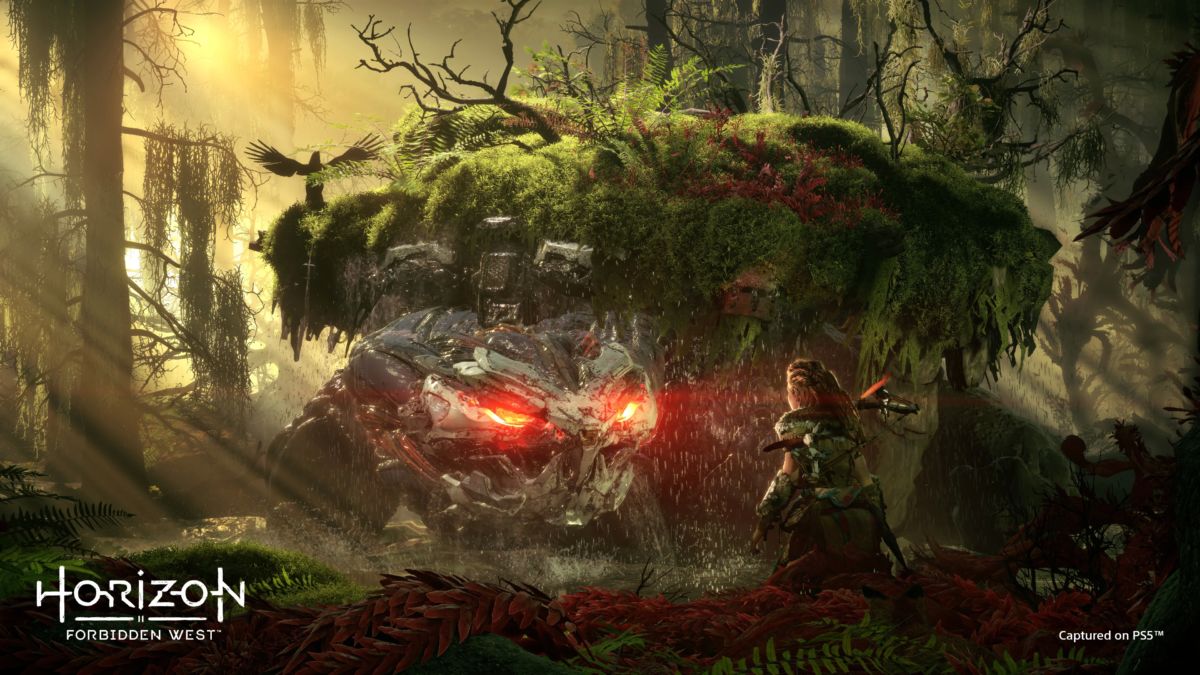 Horizon Zero Dawn was a beautiful game, from its environments to the stampeding mechanical creatures. Horizon Forbidden West looks to recreate that awe and wonder with all-new locations. The reveal trailer offered a look at new environments, enemies, and so much more, all captured in these must-see screenshots.
Horizon Forbidden West teaser and trailers
Some of the coverage you find on Cultured Vultures contains affiliate links, which provide us with small commissions based on purchases made from visiting our site. We cover gaming news, movie reviews, wrestling and much more.