Emulation in theory can mean being able to play any game you want, whenever you want. Designed to imitate just about any console in existence, fans of Xbox, Xbox 360, or even Xbox One can play their favorite games without actually having any of those systems. If you're interested in all of this, your next step will be to figure out how to make this happen.
Luckily, emulation is more straightforward than ever before. With decades since the first emulators came to computers, finding the best Xbox emulators is simple. Most of these emulators are designed to be accessible to someone who doesn't know a lot about this stuff, but with enough options and settings to satisfy those who want these games to be just so. We've put together a list of the emulation options for Xbox fans. All you need to do is choose one and follow the instructions.
Let's take a closer look at the best emulators for those who want to play across Xbox generations, whether that's the original Xbox or Xbox 360. We've ranked these, but you really should check out more than one.
6. VR XBOX 360
Open Source
Available for Windows
If you've got a Windows PC, and you're specifically looking for some Xbox 360 emulation, the VR XBOX 360 (sometimes written as the VRBOX360 and not to be confused with the virtual reality headset) is a great option. With support from both Radeon and Nvidia, those who have a powerful PC with a strong graphics card will naturally have the best overall experience. However, in case you're wondering, this free emulator can run on Windows 10, 8, 7, or even on XP. That's an impressive amount of flexibility for an emulator that has been praised for successfully running the wide range of Xbox 360 games that are available.
Furthermore, the VRBOX 360 emulator boasts an impressive FPS rating, as well as advanced usage for memory. You won't have to worry about slow loading times either. Whether you want to play Halo 3, Dark Souls, or anything in between, this relative newcomer to Xbox emulation should be able to do the job just fine.
5. RetroArch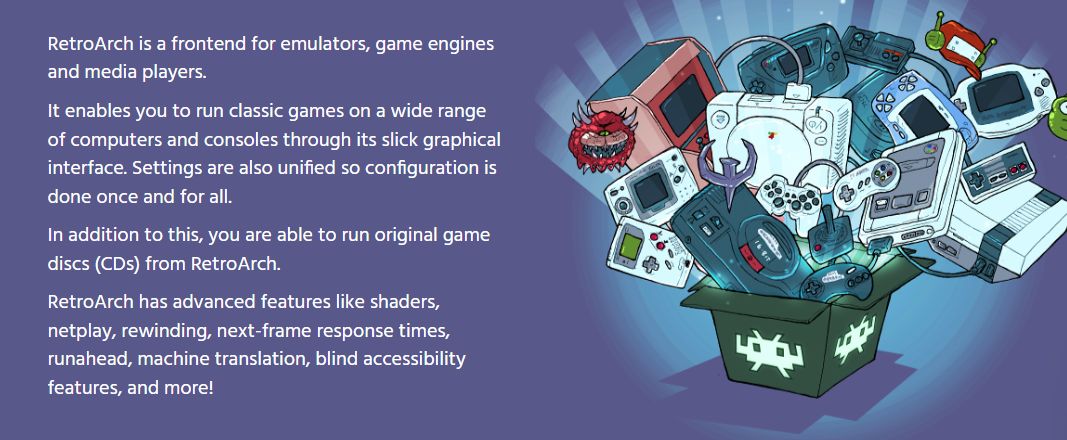 Open Source
Windows, macOS, Linux, Android, iOS, Raspberry Pi, FreeBSD
RetroArch has been around for a very long time. That alone is enough to give it a serious recommendation, simply because any Xbox (or any console) emulation that doesn't deliver results isn't going to last very long. RetroArch routinely tops the best emulators lists for just about any console in existence. That does extend to the Xbox, although one might say that RetroArch isn't the first place you should go for this family of systems specifically.
Perhaps that's because RetroArch isn't specifically made with Xbox emulators in mind. It's not made with any particular emulator in mind, as it's a front end for specific emulation or game engine needs. You can even set up your RetroArch as a media player. It's built for a lot of different people and needs, and it can be a little challenging for a first-timer to figure out everything RetroArch brings to the table.
4. XEMU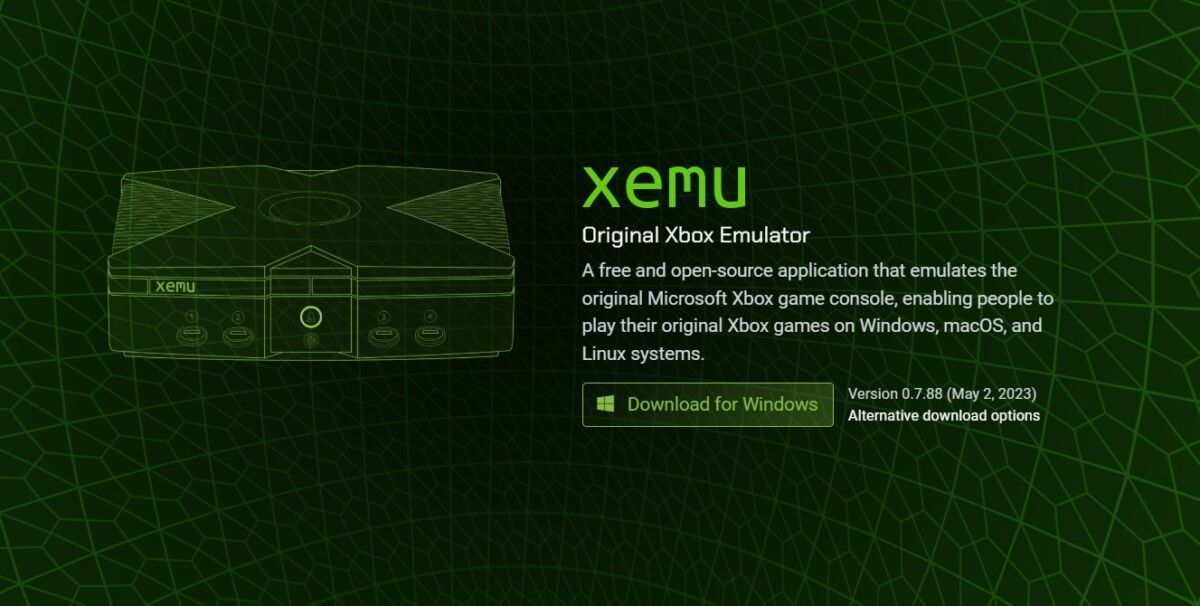 Open Source
Windows, macOS, Linux
If you're only looking to emulate original Xbox games, XEMU is going to have a lot to offer. This free and open-source emulator is designed specifically for that console and its library, and it's pretty impressive across the board. The list of compatible games is a long one (the list is updated as needed), so the odds are almost certain that classic Xbox fans will be able to play their favorites here.
XEMU can play something as rich as the RPG Fable, as easily as it can play titles like Ninja Gaiden Black. The emulator is still receiving support and active updates as of this writing, which is particularly noteworthy as it's pretty much the only original Xbox-specific emulator around. Setting up the emulator is easy for almost anyone, and the same can be said for tinkering around with your options. Render scaling and gamepad connectivity are also supported, as you might imagine.
3. DXBX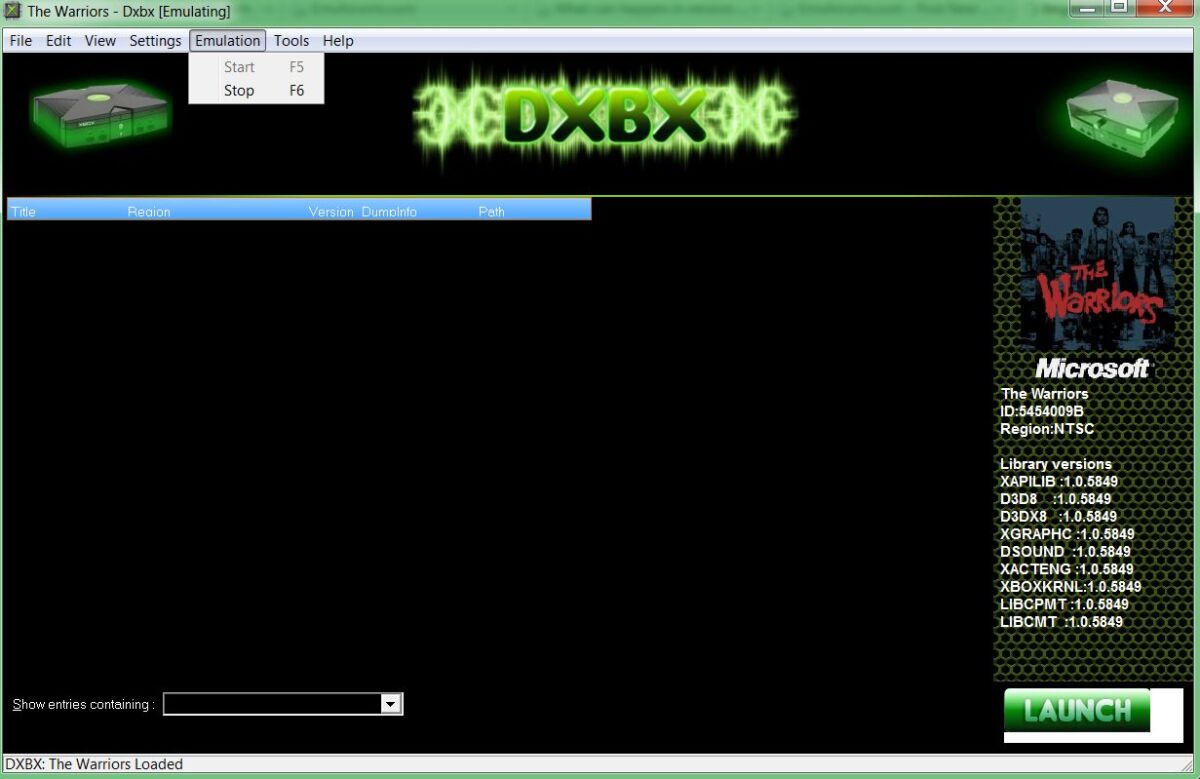 One of the best things about DXBX, one of the best Xbox emulators, is how easy the whole program is to run and use. While not the most supported emulator option out there, this Xbox emulator has received rave reviews from users for working perfectly with a wide range of original Xbox games. The emulator can even run certain Xbox 360 Or Xbox One titles. Setting up the program is exceptionally simple, although fully understanding and taking advantage of DXBX's many customizable features will take a little time and patience.
Another emulator option for Xbox fans that is 100% free to download and use, DXBX has its own kernel, can emulate everything from controllers to sounds and graphics, and is as close as one can get to a true Xbox console experience without actually having one. Utilizing Direct3D8 for its graphical power, DXBX also impresses us for its ability to accurately emulate the pixel shaders of the Xbox.
2. Xenia
Open Source
Windows, Xbox One/Series
Xenia is the best choice out there for those specifically looking for an Xbox 360 emulator. While the list of games supported on Xenia may seem small at first glance, understand that this is still a better list than you're going to find virtually anywhere else. This is a highly experimental program that is still in its developmental stages, although it has achieved some extremely impressive victories for those seeking a serious Xbox 360 emulator.
Just keep in mind that you're going to need a pretty powerful machine to run this emulator properly. Because Xenia is fairly new, its current crop of features is not comprehensive by any means, but this should change.
Halo 3 and Diablo III are among the games you can currently play on Xenia. As long as you've got a system strong enough to run everything, setup and playing around with the limited range of options should prove to be a breeze.
1. CXBX Reloaded
By letting you convert Xbox games into executable files, CXBX Reloaded already stands out among the best Xbox emulators. It's another program that requires a powerful system to run everything without a hassle, but you at least have the assurance that the games will run without any virtual environment to worry about. In other words, you're going to be able to enjoy your favorite Xbox games free of obnoxious lagging.
Over 160 games can currently be played in their entirety on CXBX Reloaded. A great many other games can be played to a significant degree, and only a relative handful are completely unplayable. If your favorite Xbox games are currently not supported by the emulator, simply wait. The program is still seeing substantial update work, with several new builds in 2023 alone. Keep an eye on CXBX Reloaded. You'll be glad you did.
READ NEXT: 7 Best PS1 Emulators For PC, Android, Linux & More
Some of the coverage you find on Cultured Vultures contains affiliate links, which provide us with small commissions based on purchases made from visiting our site. We cover gaming news, movie reviews, wrestling and much more.