There are over 17,000 indie horror titles on the community video game hosting site, itch.io. That's 17,000 chances to scare the crap out of yourself before bed or to laugh until your face hurts. Itch.io is known for low-budget games that are often developed by small teams and sometimes in only a few days for competitions like game jams. But don't let this deceive you: even without cutting-edge graphics or expensive voice acting, the platform's horror games are dishing out just as many scares as AAA titles.
On itch.io you can find everything from terrifying to awkwardly hilarious horror games that often feature brilliant writing, nuanced ways of using yesterday's graphics, and reliance on fear of the unknown to really make you uncomfortable. So out of the thousands upon thousands of horror titles available on the platform, here are 10 of the absolute best horror games on itch.io you can play right now.
Best Horror Games On Itch.io
1. Faith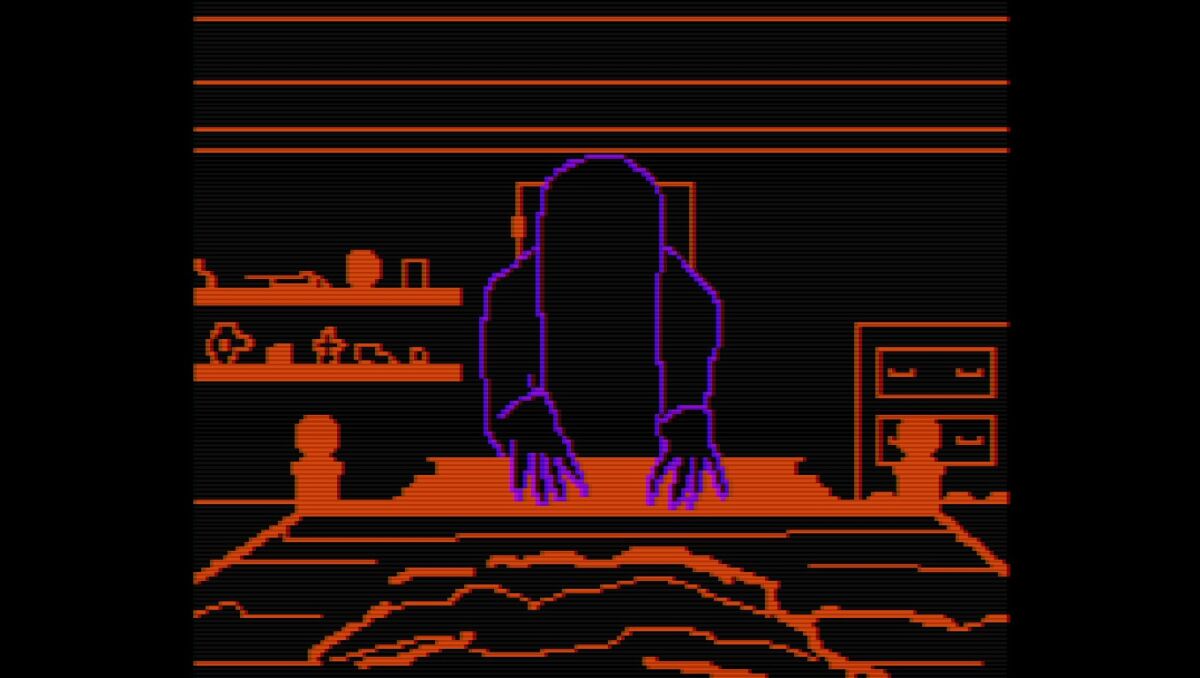 Developer: Airdorf Games
Even though it has five very different endings, one playthrough of Faith is enough to see why it's been consistently ranked one of the best horror games on itch.io for four straight years. For starters, it deals with possession and exorcism, which is an ambitious storyline for any low-budget game. Combined with the fact that Faith uses Atari-era graphics, its complex storyline and gameplay are actually unparalleled.
If that wasn't enough, this game is just terrifying. I never imagined I would be trembling in fear while playing a simple, pixel-style game. But Faith wants to show you that sometimes when it comes to horror, less is more.
2. The Glass Staircase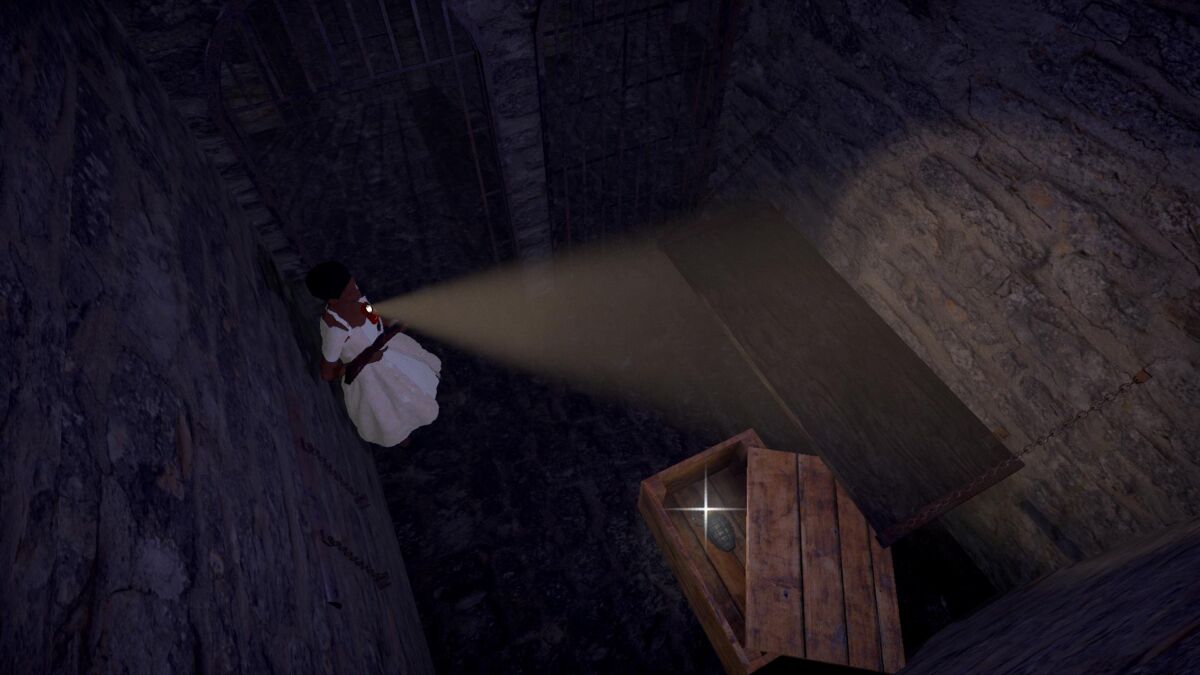 Developer: Puppet Combo
Puppet Combo is known in the itch.io horror community for their gore-filled, PS1-esque games inspired by 80s horror flicks on VHS. The Glass Staircase is no exception. It's reminiscent of early titles from both the Silent Hill and Resident Evil franchises, given the hazy, gray environment and fixed camera perspective.
Made up of five chapters, every day you wake up playing as a different little girl in the same orphanage. This game pretty much hits all the notes that you want from a PS1-era horror game and the sleepy, creepy atmosphere sticks with you long after it's over.
3. M. Stain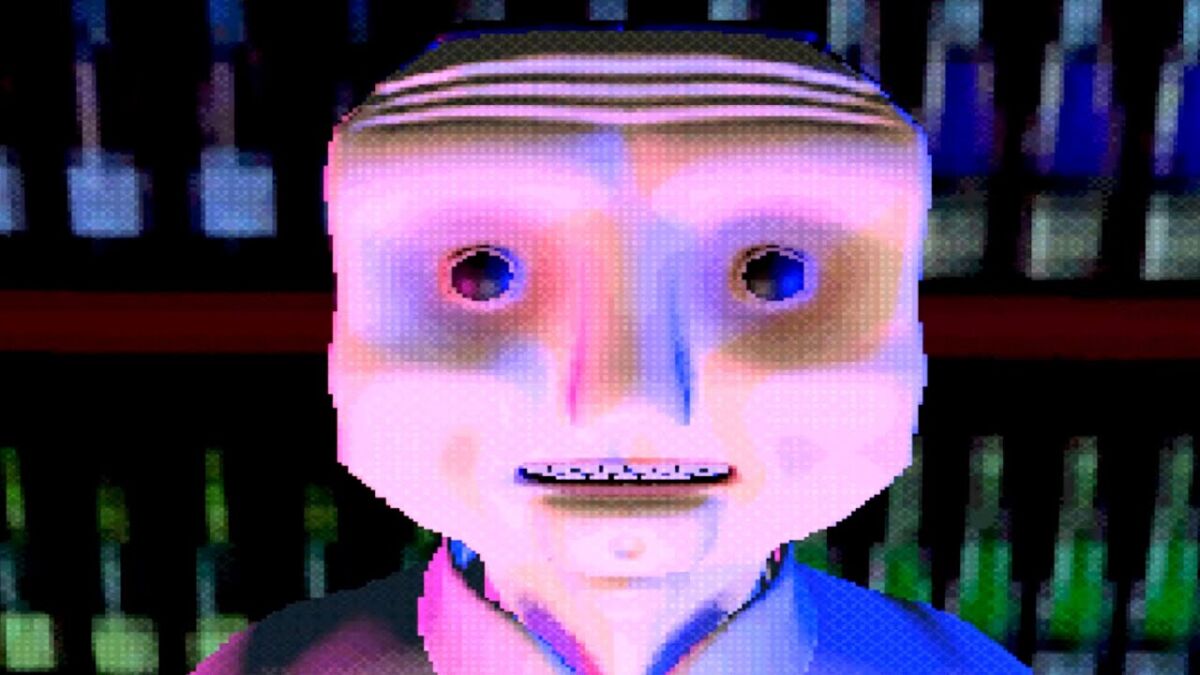 Developer: Impostersyndrome
If there's one word to describe M. Stain, it's "madness". What the developers classify as a "surreal job interview simulator" doesn't quite do it justice past the 3-minute mark. This game is a funny, creepy, unexpected rollercoaster ride from start to finish and it keeps you guessing what could be around the corner.
The titular M. Stain is an "eccentric business tycoon" and the player is out to impress him and secure the job opportunity of a lifetime. But he's got a few tricks up his sleeve and the interview process keeps getting weirder and weirder. Although M. Stain is certainly a horror comedy with more laughs than scares, there's something really unsettling about it that never quite dissipates. Maybe it's the fact that you never know who you can trust or whether you really have any free will left in the game at all.
4. Jam and the Mystery of the Mysteriously Spooky Mansion
Developer: Res
You know when you meet a character for the first time and they just immediately charm you with their wit and relatability? That's Jam, the titular character and self-proclaimed "world's greatest kid detective between the ages of 4 and 17 in the western half of Linn County". Jam and the Mystery of the Mysteriously Spooky Mansion is a point and click detective-style whodunit game that definitely offers up more questions than it does answers.
Even though it seems to start out cutesy and silly, the creepy tension builds as Jam investigates the mansion, until the player finds themselves facing one of 15 legitimately scary ending options. Undoubtedly one of the best features of this game is the degree to which you can play around with the environment and use your item inventory. Jam has a creative response or reaction for just about any combination you can think to try, empowering you to live your kid detective dreams to the fullest.
5. Can a Cute Ghost Story Be Spooky?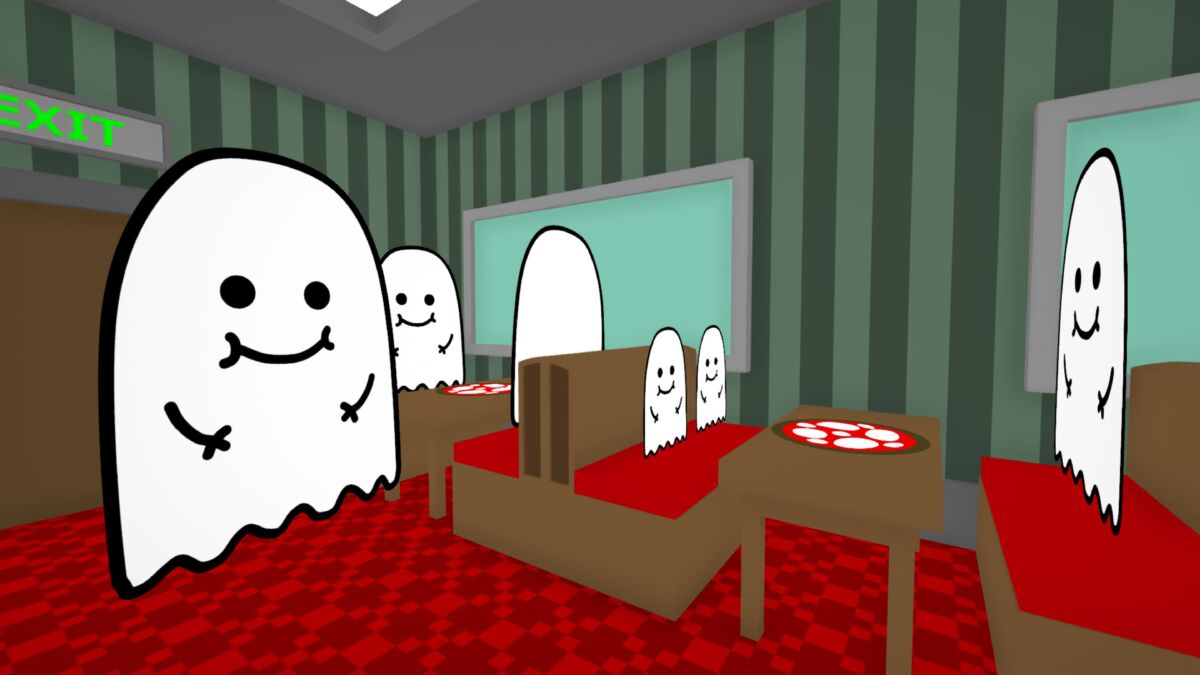 Developer: Dema studios
It's a fair question that the developers of this horror parody title ask. Ghost stories are all too common, but in this game, you actually get to play as a ghost. His name is Jimmy, he lives in a town full of other ghosts, and he loves pizza. He's a happy-go-lucky ghost, until someone steals his favorite hat. Now he'll do *anything* to get it back.
Everything about Can a Cute Ghost Story Be Spooky? is eerily silly, from the soulless smiles on the face of every ghost to the bizarrely fast-paced background music. And although it's definitely classified as a comedy, this game is not without its scary moments. If you're sensitive to jump scares, you might want to heed this warning and turn the volume down on your computer.
6. Wrong Floor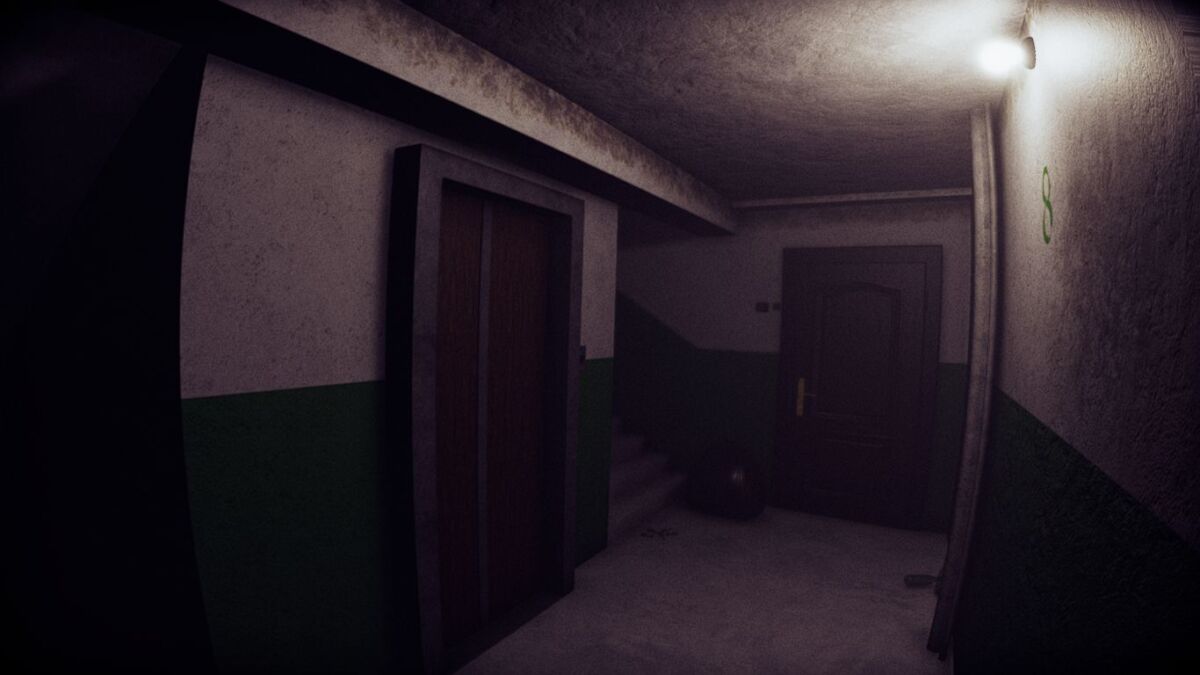 Developer: N4bA
Wrong Floor is a classic first-person horror experience that can be completed in under 20 minutes. It starts out with everyone's worst nightmare – being stuck alone in a malfunctioning elevator. When the doors open, you quickly realize that it has in fact taken you to the titular wrong floor.
What makes Wrong Floor so effective is that it employs proven tactics from the first-person horror genre on a much smaller scale, creating this extreme feeling of claustrophobia and paranoia. Departing from many other low-budget horror games, Wrong Floor leaves nothing to the imagination. There is a very real and very terrifying murderer haunting your steps as you try to figure out how to get the elevator working again and make your escape. And once you see this guy's face, you will never want to let him catch you.
7. Sagebrush
Developer: Redact Games
There just aren't enough horror video games about cults. Not only is a doomsday cult the premise of Sagebrush, but the developers have done just about everything exactly right to cover this subject in a realistic and effective way.
Coming in at both the priciest purchase and the longest playtime on this list, Sagebrush gives the player freedom to explore the massive empty compound and collect clues as to what happened to the people who once lived there. As the sun slowly sets during gameplay, Sagebrush builds atmospheric tension like none other. Piecing together notes and recordings allows the player to feel the emotional terror that comes with being trapped in a cult with no way out. After nearly two hours of gameplay, the climax of Sagebrush doesn't disappoint or hold anything back.
8. Anatomy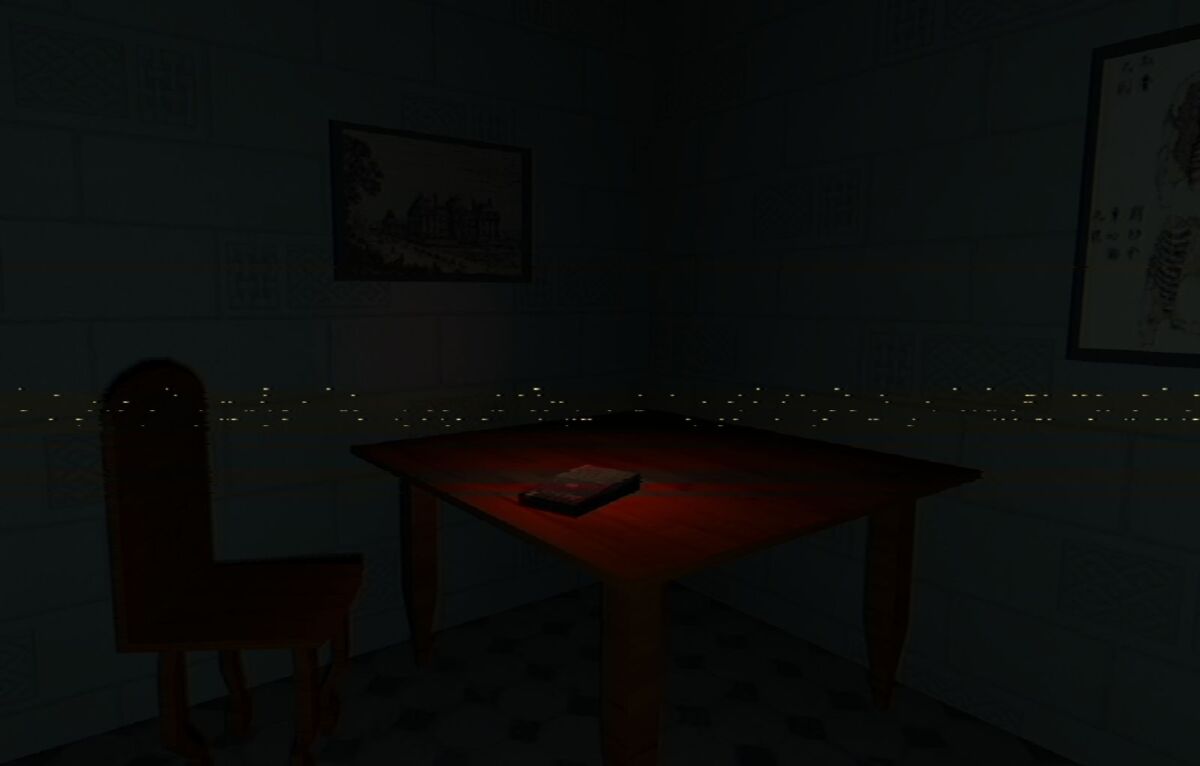 Developer: Kitty Horrorshow
Sometimes Anatomy feels more like you're reading a horror short story under the covers with a flashlight than playing a video game. The game's "Read Me" file contains a note dedicating Anatomy to Mrs. Shirley Jackson, author of The Haunting of Hill House and general horror fiction legend. Kitty Horrorshow is a bit of a legend herself, having developed several of the best horror games on itch.io, and Anatomy makes it easy to see why.
This first-person walking simulator's singular objective is clear – find the next cassette tape and bring it back to the kitchen to play it on the cassette player. Anatomy's writing is poetic and with each cassette, the player becomes more uneasy, more convinced that there is something waiting around the next corner. Don't be surprised if Anatomy makes you afraid of your own house, as that's exactly what it was designed to do.
9. Happy's Humble Burger Barn
Developer: Scythe Dev Team
What could possibly be scary about a fry cook simulation game? Happy's Humble Burger Barn is an homage to PS1-era first-person sims where you get to flip burgers, scoop fries, and take out the garbage. At first, everything seems pretty normal at the restaurant, except maybe the life-size model of "Happy the Humble Heifer" looming by the front door.
It's nothing short of a workday in fast food service, and then you probably expect to be able to get in the car and go home. But Happy's Humble Burger Barn has something different in store for the player. Out of all the best horror games on itch.io, this is the one you want to go into without any spoilers or expectations because the ending is completely bonkers.
10. Midnight Scenes Ep. 2: The Goodbye Note
Developer: Octavi Navarro
For fans of classic 1960s television shows like The Twilight Zone or Alfred Hitchcock Presents, Midnight Scenes is right up your alley. It's a point-and-click adventure game armed with a vintage black and white vibe and creepy-crawly background music. As the game opens, we see a frantic scientist kissing his wife goodbye before he boards a plane in a hurry. From that point, the majority of gameplay is a flashback sequence where you get to see why he's so paranoid and obviously obsessed with the contents of his carry-on bag.
Apart from the often-tricky puzzle gameplay, what Midnight Scenes Ep. 2 also offers players is a relatable main character and a surprisingly intricate plot. The story told by Midnight Scenes Ep. 2 could have been extended to an hour or more but was sort of condensed into the most critical scenes, making it short but sweet and allowing that twist ending to deliver a much-deserved punch.
READ NEXT: The Best Free Horror Games You Should Check Out
Some of the coverage you find on Cultured Vultures contains affiliate links, which provide us with small commissions based on purchases made from visiting our site. We cover gaming news, movie reviews, wrestling and much more.