OUR LATEST VIDEOS
I have been excited for Exit Stage Left: The Snagglepuss Chronicles ever since I heard about the comic miniseries' announcement earlier this year. A Hanna Barbera/DC collaboration that promised to turn pink-furred cartoon cat Snagglepuss into a Tennessee Williams-esque Broadway playwright was a concept I found so strange and unique that I just had to check it out. I expected to laugh at the absurdity of the thing, but after I'd finished reading the first issue, I realised that I hadn't even tittered once at the idea that I was supposed to take Snagglepuss seriously as a complex protagonist. I had been completely invested in the comic because, shit, it's so good.
Without giving too much away, I can tell you that the first issue reintroduces Snagglepuss to us as a gay playwright who's caught up in the Red Scare of the 1950's. It seems as if the world is against our favourite lion as he tries to navigate a world that adores his persona and detests his truths, and even in the first issue, we're introduced to some wonderfully layered emotional struggles which are all amplified by the time period in which the book is set. DC's official teaser for the book even hints as much:
It's 1953. While the United States is locked in a nuclear arms race with the Soviet Union, the gay Southern playwright known as Snagglepuss is the toast of Broadway. But success has made him a target. As he plans for his next hit play, Snagglepuss becomes the focus of the House Committee on Un-American Activities. And when powerful forces align to purge show business of its most subversive voices, no one is safe!
Exit Stage Left #1 also has some wonderful talent to its name, including interior art by Mike Feehan, cover art by Ben Caldwell, and writing by Mark Russell. Each aspect of the book's creation conflates seamlessly into a first issue that flows well and gently urges you to keep reading at every page turn and panel.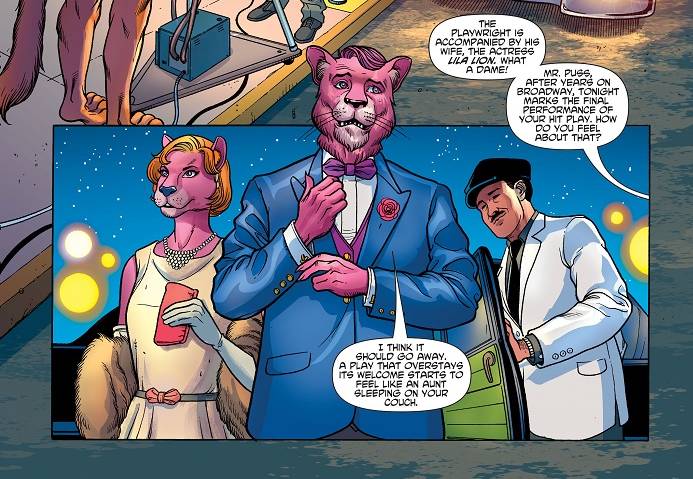 If you're interested in the story but worried that you won't be able to take the tale of a big pink cat walking around 1950s New York too seriously, don't worry. I too was once like you, before I finished this first issue and found myself oddly enamoured by both the visuals and narrative of Exit Stage Left. It's a book that doesn't require you to suspend your disbelief any more than you would with, say, Superman. If you can imagine an alien superbeing coming down to Earth to save us all, you can imagine Snagglepuss as a gay playwright who's more than just a camp secondary character. The Snagglepuss Chronicles is a series that could've made so many bad decisions, but the creative team have made good decision after good decision in order to bring us a tale of love, friendship and subversiveness in a time period that many romanticise as a place of joy and prosperity for all. Pick up the first issue of Exit Stage Left: The Snaglepuss Chronicles if you want a book that's uniquely charming, just like its titular character.
Exit Stage Left: The Snagglepuss Chronicles will be available for purchase on the 3rd of January 2018. A review copy of issue #1 was provided for this article.