Happiness in The Wandering Village is called productivity, which directly relates to the ability of your people to do their tasks efficiently. The more productive your villagers are, the quicker they'll move about and complete their tasks.
There are four main ways to help your town stay cheerful and go about its daily business quickly and without a fuss.
The first is the quality of your housing. Nobody likes living out in the open, especially when the whole world is overtaken by toxic spores and poisonous plants, so even a basic rinky-dink shack will do.
However, the better housing you build for your villagers, which can be researched in the technology tree, the more productive they'll be. In fact, your people's happiness with their current housing will start dropping over time, especially when many new nomads join your settlement, so it's important to update your shelters over time to the latest and fanciest houses if you have the resources.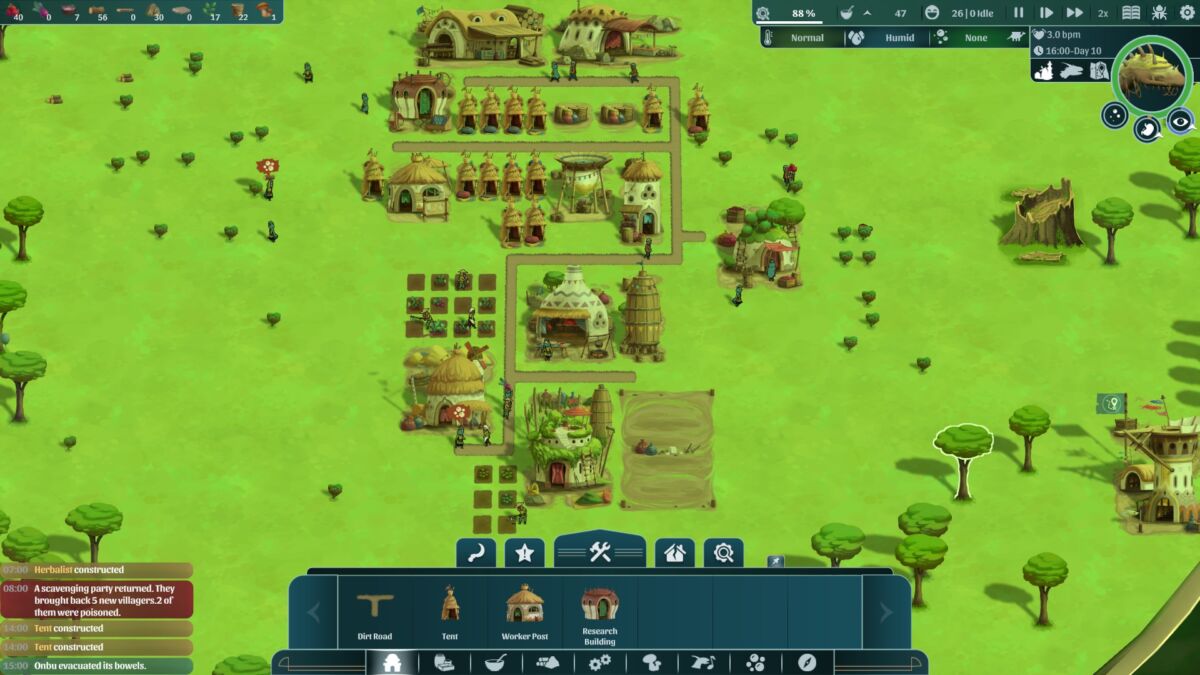 The next way to keep your people happy is to heal them from poison and intoxication. Granted, staying healthy doesn't provide any direct positive bonus, a villager's poisoned status effect will bring down the settlement's overall productivity level. Village doctors will help in healing and mitigating the negative effects of poisoned workers.
The final two methods of keeping the population happy are through food. The first of these is directly tied to the level of quality of food. For example, your people could eat raw berries and beets for the rest of their days, but that certainly won't do much for their productivity. When you cook or process food, usually through the kitchen or the windmill and bakery for wheat, flour, and bread, you essentially level up the food, and as soon as a villager consumes that upgraded food, they'll gain a productivity bonus.
Finally, your villagers like variety in their diet, so providing a range of different food sources will also grant them a productivity bonus. It's definitely in your best interests to ensure that you have multiple sources of food, which is good for improving productivity and also ensuring that you're resistant to shock from shifting climates or other natural challenges.
The Wandering Village is available on PC.
READ NEXT: 10 Best Early Access Strategy Games You Can Play Right Now
Some of the coverage you find on Cultured Vultures contains affiliate links, which provide us with small commissions based on purchases made from visiting our site. We cover gaming news, movie reviews, wrestling and much more.