The platforming genre just seems to be the perfect breeding ground for gaming mascots. Between Mario, Sonic, Crash, Spyro, Gex, Croc and Bubsy (some of these names may not match up), there were plenty of adorable characters for players to instantly gravitate towards, but the duo that stood out from the pack was always Banjo-Kazooie.
Rare's iconic bear and bird combo captured the imagination of many N64 players, and while the characters are still part of the gaming mainstream to this day thanks to some choice appearances, we haven't seen a new Banjo-Kazooie game in well over a decade. We're asking the question, as we often do: will we ever see another Banjo-Kazooie game?
The History of Banjo-Kazooie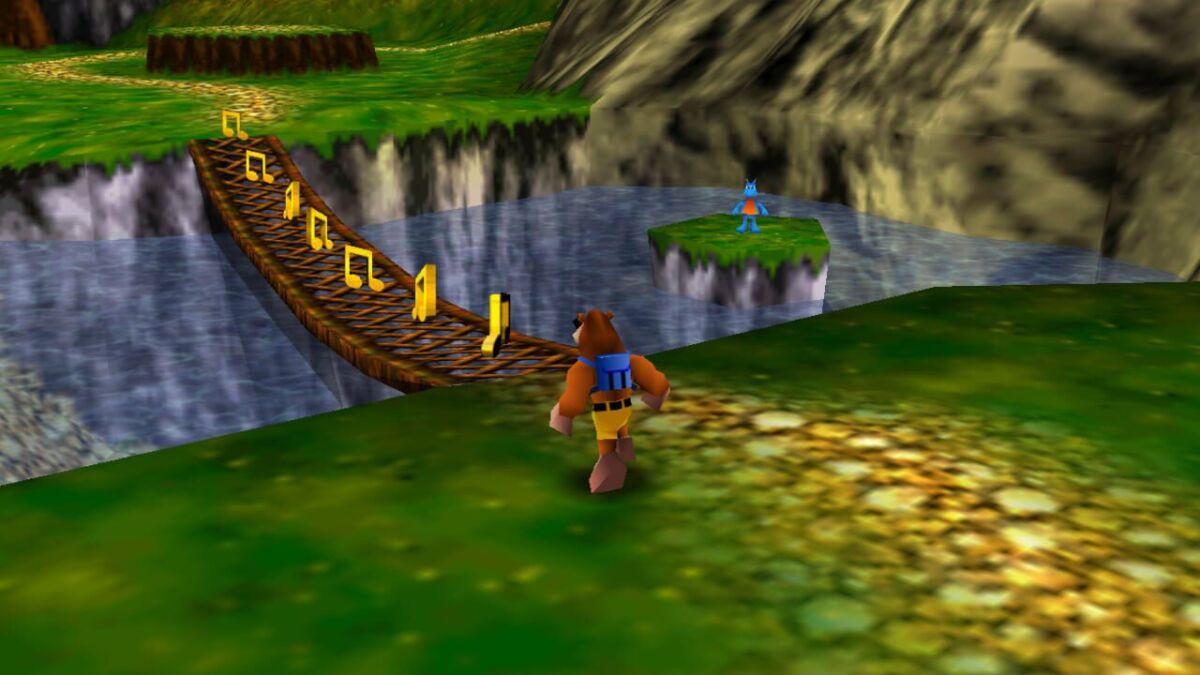 The original N64 Banjo-Kazooie game was developed by Rare, with development starting around 1997. However, Rare opened up in late-2015 about how they were originally working on a project called Dream, which would have been an ambitious isometric RPG aimed for release on the SNES. During the course of the game's development, the main character was changed from a young boy to Banjo, and it became a linear platformer in a similar vein to Donkey Kong Country. However, the release of Super Mario 64 inspired Rare to create their own take on the 3D platformer.
Development on Dream was scrapped in favour of what would become Banjo-Kazooie, but some elements of Project Dream found their way into the game, including the lead character. It turns out that the team at Rare were big fans of the goofy looking bear. Also brought over from the wreckage of Project Dream was the antagonist, Captain Blackeye, who even makes reference to Dream in the sequel, Banjo-Tooie.
While Banjo was already fully formed, it took some time before fellow lead character Kazooie materialised. During development, the team wanted to focus on the player's abilities, but found some difficulties implementing them in a believable way. According to head designer Gregg Mayles in an interview with Retro Gamer Magazine, the solution was to just create a brand new character:
"We came up with the (looking back, extremely wacky) idea that a pair of wings could appear from his backpack to help him perform a second jump. We also wanted Banjo to be able to run very fast when required, so as the idea of the 'double-jump' wings had worked so well, we added a pair of 'fast-running' legs that appeared from the bottom of the backpack. So we had arms and legs, and soon after we came up with the logical conclusion (well, it was to us) that these could belong to another character, one that actually lived in Banjo's backpack. The character became Kazooie, and we transferred most of Banjo's moves to her, adding her sarcastic wit as a contrast to Banjo's good natured charm."
Banjo-Kazooie would launch in the summer of 1998, and went on to be one of Rare's most successful games ever. On Metacritic, Banjo-Kazooie earned the lofty score of 92, cementing the game as a top contender for the 3D platformer crown despite releasing after Super Mario 64. As of 2007, it was also reported that Banjo-Kazooie had even managed to surpass 1.85 million copies sold in the US alone.
Success like that naturally brings with it a sequel, with Banjo-Tooie launching on the N64 in 2000. The game was improved to include a brand new multiplayer mode, along with bigger worlds and levels for players to explore, and the improvements mostly reflected in the game's success. Banjo-Tooie achieved a 90 on Metacritic, and it's sold over 3 million copies worldwide, so you'd expect an instant trilogy, right? Not exactly.
It would take eight years for the next big Banjo-Kazooie release. Between the two, Rare was acquired by Xbox, and began developing exclusive games for the big green console, including the underrated Grabbed By The Ghoulies for the original Xbox, and Xbox 360 launch title Kameo. There would be some Banjo games in the meantime, Banjo-Kazooie: Grunty's Revenge and Banjo-Pilot, though these games launched for the Game Boy Advance and were published by THQ.
What Happened To Banjo-Kazooie?
The last release in the series was Banjo-Kazooie: Nuts & Bolts for the Xbox 360 in 2008. Originally, Nuts & Bolts was designed to be a remake of the original game, only with shinier visuals, updated gameplay and a bit of a knowing wink that the events of this game had already happened, but that plan was scrapped as Rare felt like fans were expecting a brand new adventure from the loveable duo.
Rare co-founder Tim Stamper had the idea of an "interactive LEGO play set", with players able to construct vehicles using bricks. This idea would become the foundation of Nuts & Bolts going forward, with Gregg Mayles hinting at this new direction in the same interview with Retro Gamer magazine:
"Some fans look back fondly and want more of the same, but the Banjo of yesteryear has no real place in tomorrow's market on the Xbox 360. What we want to do is retain all the elements that made the first two games so loved, but also try things that breathe new life into a genre that has sadly been neglected for many years."
Nuts & Bolts launched to some mixed reviews, as the game's vehicle creation gameplay system wouldn't exactly mesh with everyone who played it. Some players yearned for a return to the classic platforming of the older games, while others grew to love the fresh perspective on the classic series. Grant Kirkhope, composer and one of the driving forces behind Rare for a long time, would admit on Twitter years later that Nuts & Bolts might've achieved more success if it wasn't tied to the classic franchise.
Banjo Kazooie Nuts and Bolts is a good game, in some respects it pre-dates Minecraft's build "anything" mechanic ….. it just shouldn't have used BK and been a stand-alone IP

— Grant Kirkhope (@grantkirkhope) July 7, 2019
Nuts & Bolts averaged at a 79 on Metacritic, which is certainly a respectable score, but it's a marked decrease from the 90s that the first two games enjoyed. Sales wise, it was reported that Banjo-Kazooie: Nuts & Bolts sold around 400,000 copies within the first nine months. This is due to the fact that the game earned Platinum Hits status, which means selling 400K copies according to IGN.
Since Nuts & Bolts, Banjo-Kazooie have been relegated to the mascot guest appearance role, though the duo did have their old games ported to Xbox 360. The two appeared as an Xbox 360 exclusive character in Sonic & SEGA All-Stars Racing, a kart racing game that launched in 2010. Banjo-Kazooie were even given featured billing on the cover art and everything. More recently, the two appeared as a DLC character for Super Smash Bros. Ultimate, bringing the iconic music of the series along with them.
Will We Ever See A New Banjo-Kazooie?
This one could go either way in all honesty. 2015's Rare Replay, a collection of iconic Rare games from the 30 years prior to the collection's launch, was a letter of love to the company's history, and Banjo-Kazooie played a big role in that. The team were also keen on supporting the legacy of the series, making all the 360 games backwards compatible with the Xbox One and now Xbox Series X | S. On top of that, all the games in the series were updated to support 4K resolution on Xbox One X, so you know the Series X | S versions will also look as good as they possibly can.
As for if we'll see another one, it remains to be seen. According to Xbox head Phil Spencer, it's all up to Rare. In an interview with Kotaku, Spencer states: "I leave it up to the studios in terms of the things that they want to go work on. I have a lot of respect for Rare and the work that they do. They do like building new things, and they've seen success with Sea of Thieves. I think they're really excited about Everwild."
While Rare might not have the time to develop a new Banjo-Kazooie, between their work on Sea of Thieves and the upcoming Everwild, one development team that could take the mantle is Playtonic. The Derby-based studio, itself founded by former Rare developers, including those who worked on Banjo-Kazooie like Grant Kirkhope, is best known for creating Yooka-Laylee. While reviews of Yooka-Laylee didn't exactly set the world on fire, it was a pretty faithful homage to Banjo-Kazooie, and the team seemed to find more success with the sequel, The Impossible Lair.
For what it's worth, Playtonic themselves have even stated that they would love to make a new Banjo-Kazooie game. Playtonic published a statement on Twitter back in 2019 in the wake of the appointment of Ed Bryan, another former Rare character artist, addressing the rumours that the indie team were working on a new bear and bird game.
A statement from us! pic.twitter.com/nZHqI5GaYe

— Playtonic (@PlaytonicGames) November 6, 2019
The series' original creator, Steve Mayles, wrote a guest column for VGC back in 2019, where he also called for a Crash/Spyro-esque remake of the first two Banjo games, using those to gauge whether a new game would be warranted: "Could the reaction of fans to Banjo and Kazooie in Smash persuade Microsoft to make another Banjo game? The revival of Spyro and Crash went pretty well after all… I think a fairly safe way to gauge demand for a new game would be a remaster of the original two games. Then if the interest is there perhaps we could see Banjo return in the new no-expense-spared game he and Kazooie deserve."
It's a curious case, honestly. It seems like pretty much everyone who could make a new Banjo game happen wants to see it happen, perhaps with the exception of Rare itself. In an interview with GamesIndustry.biz, Director of Audience and Brand Strategy Simon Prodger spoke about fan expectation for modern day Rare, and how Banjo doesn't seem to factor into it:
"As Sea of Thieves has become successful, the smaller Rare audience on social channels has certainly diminished in terms of their requirements over what they want to see next. They've bought into the vision of what Sea of Thieves is. People were very excited about Everwild. We didn't see any: 'Oh it's not Banjo 3'. It's a studio journey that the fanbase has been on as well."
With the likes of the recent Battletoads reboot though, it's clear Rare are perfectly happy to loan out their franchises to other companies if they think it'd be a good fit, and perhaps there's no greater fit than Playtonic and Banjo-Kazooie. It's perhaps the most likely outcome if we're to ever see the duo make a return, but how likely it is to happen at all is anyone's guess.
I'd sure love to see it, though.
READ MORE: Will We Ever See A New Syphon Filter Game?
Some of the coverage you find on Cultured Vultures contains affiliate links, which provide us with small commissions based on purchases made from visiting our site. We cover gaming news, movie reviews, wrestling and much more.